EOI 2018/S/001: Request for Expression Of Interest for Trustee Services for the Green Climate Fund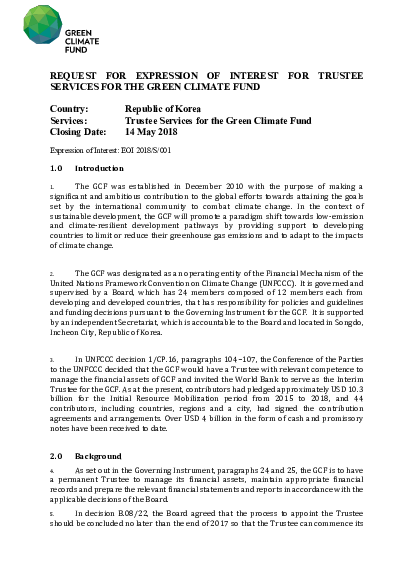 Download
EOI 2018/S/001: Request for Expression Of Interest for Trustee Services for the Green Climate Fund
Submissions to this procurement notice has ended.
As set out in the Governing Instrument, paragraphs 24 and 25, the GCF is to have a permanent Trustee to manage its financial assets, maintain appropriate financial records and prepare the relevant financial statements and reports in accordance with the applicable decisions of the Board.
In decision B.08/22, the Board agreed that the process to appoint the Trustee should be concluded no later than the end of 2017 so that the Trustee can commence its services for the GCF no later than April 2018. The GCF now seeks to select a Trustee which will meet the requirements.
Publication date
18 April 2018
Reference #
EOI 2018/S/001