EOI 2018/C/004: Consultancy Services to Provide Advice on Insurance Coverage for Projects/Programs Funded by the Green Climate Fund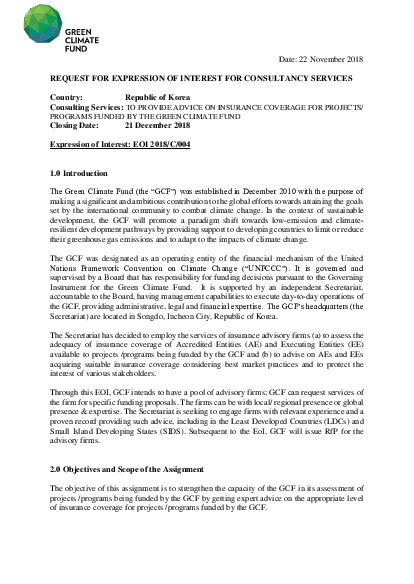 Download
EOI 2018/C/004: Consultancy Services to Provide Advice on Insurance Coverage for Projects/Programs Funded by the Green Climate Fund
Submissions to this procurement notice has ended.
The Secretariat has decided to employ the services of insurance advisory firms (a) to assess the adequacy of insurance coverage of Accredited Entities (AE) and Executing Entities (EE) available to projects /programs being funded by the GCF and (b) to advise on AEs and EEs acquiring suitable insurance coverage considering best market practices and to protect the interest of various stakeholders.
Through this EOI, GCF intends to have a pool of advisory firms; GCF can request services of the firm for specific funding proposals. The firms can be with local/ regional presence or global presence & expertise. The Secretariat is seeking to engage firms with relevant experience and a proven record providing such advice, including in the Least Developed Countries (LDCs) and Small Island Developing States (SIDS). Subsequent to the EoI, GCF will issue RfP for the advisory firms.
Publication date
22 November 2018
Reference #
EOI 2018/C/004