EOI 2017/C/002: Services to upscale InfoSec and privacy practices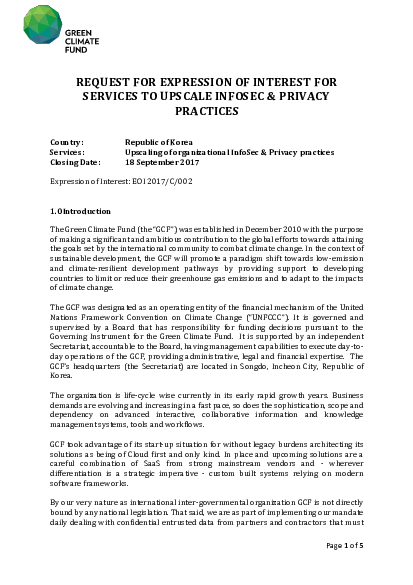 Download
EOI 2017/C/002: Services to upscale InfoSec and privacy practices
Submissions to this procurement notice has ended.
GCF follows an IT strategy of consciously preserving its agility and responsiveness by retaining and further expanding a major share of its IT activities through outsourcing arrangements. The current ratio of outsourcing is well above 50%. As far as information security and privacy concerns are affected this adds another layer of complexity, not necessarily risk, if well managed.
Via this Request for Expression of Interest we are looking for ideally one single subject matter expert, who is capable of competently covering both domains of expertise, information security as well as privacy (data protection).
Based on the expected feedback for this solicitation, and subsequent own discussions with our current two main IT outsourcing service providers (under renewable 3-year contract), we intend to use either a direct service contracting modality with the chosen one or two InfoSec/Privacy subject matter experts, or make use of the existing standing arrangements through our outsourcing service providers for doing so. Latter scenario might be more meaningful due to the already predictable triggering of additional non-trivial advisory and work demands in the domain of our current service providers, because of GCF's own upscaling initiative.
 
Publication date
29 August 2017
Reference #
EOI 2017/C/002