Traditional Savanna Fire Management Readiness Proposal to facilitate Emissions Reductions in the AFOLU sector in Belize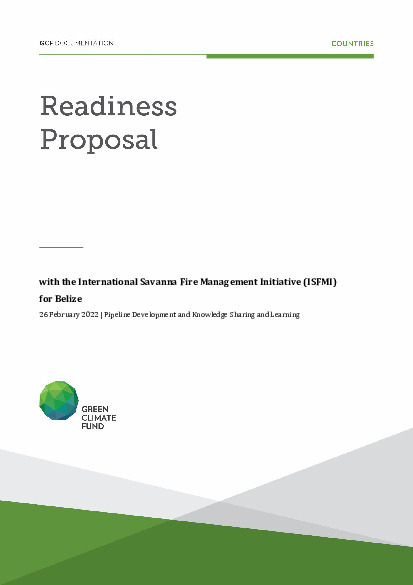 Download
Traditional Savanna Fire Management Readiness Proposal to facilitate Emissions Reductions in the AFOLU sector in Belize
Challenges and Gaps that the Proposal is Designed to Resolve
Belize, through national commitments and strategies, has identified the land sector as important to its climate change mitigation and adaptation response. Indeed, in the National Climate Change Policy Strategy and Action Plan to Address Climate Change in Belize (2014), Belize identified AFOLU (including forest fires) as an important threat that would be aggravated by climate change. One of the key strategic aims identified was to "ensure the conservation, utilization and sustainable use of forest resources" by properly managing forest fires. Strengthening forest fire management and response and facilitating local level partnerships with communities are also prominent in Belize's strategy. Nevertheless, despite these goals, the potential of emissions reductions Traditional Fire Management (ER TFM) to address land sector issues arising from frequent wildfires in this region remains unrealized.
High intensity late dry season wildfire in Belize occurs on a significant scale and contributes to biodiversity loss, expedites de-afforestation and forest degradation, undermines food security, and damages infrastructure, with more than 300 hectares of forest destroyed by fires every year. Climate change is likely to exacerbate late dry season wildfire in the region, further increasing the importance of employing approaches that reduce the risk of late dry season wildfire.
Belize has a long tradition of traditional fire management practice that utilized traditional knowledge and practice to manage burning in the early dry season and prevent wildfires in the late dry season. However, current regimes large focus on fire suppression, alongside other pressures, frequently prevent Indigenous peoples and local communities from conducting early dry season burning, allowing more destructive fires with higher emissions levels, to take hold later in the year. In Belize, as in other countries in the region, the potential of Traditional Fire Management (TFM) to address land sector issues arising from frequent wildfires remains unrealized.
Traditional fire management, using a science-based emissions reduction methodology that shifts fire patterns from the late to the early dry season, alongside a community development-based approach, has been successfully proven in northern Australia to reduce emissions from fire by up to half, while supporting adaptation to climate change, preventing forest loss and degradation, protecting biodiversity and creating employment, community income and other co-benefits in remote Indigenous communities. Such emissions reductions from Traditional fire management activities are able to be measured and verified, with offsets traded in carbon markets, or activities supported through other funding sources including other types of corporate partnerships.
The potential of traditional fire management to reduce fire emissions, support adaptation and create multiple biodiversity, social and economic co-benefits in Belize specifically has been established through international studies. Nevertheless, Belize has not yet developed a high level of awareness of the potential of emissions reductions through traditional fire management within its territory, and does not have the local capacity or enabling environment to support development of emissions reductions traditional fire management projects.
Proposed Project Strategy
This proposal seeks Readiness support for a project to ready Belize for future development of an ER TFM sector, and use of ER TFM as a key climate change and fire management response. Specifically, the proposal seeks support to a) develop a Project Concept Note and an evidence base to inform a further pipeline of projects (Outcome 4.1) and that b) strengthens partnerships for the sharing of knowledge (Outcome 5.2).
This approach targets stakeholders representing each of government, research institutions, and communities, given that the multifaceted and interdisciplinary interaction required for building an enabling environment for ER TFM requires capacity, engagement and coordination among a diverse range of actors, including, potentially, actors in the broader region towards cross border management approaches and joint technological MRV capacity.
How GCF Readiness Support Activities will advance this outcome and How the Change will be visible over Time.
The ultimate goal of the proposed readiness interventions, when coupled with implementation of activities to be outlined in the Concept Note intended to be developed as part of the proposed readiness support, is that Belize has the requisite capacity and enabling environment for development of an emissions reduction traditional fire management sector, including through technologies and coordination as is determined is required, that will lead to establishment of self-sustaining emissions reductions traditional fire management projects that reduce emissions, protect biodiversity, prevent forest loss and degradation, and create employment opportunities for remote Indigenous and local communities.
Cover date
26 February 2022
Document type
Approved readiness proposal
Organisation
International Savanna Fire Management Initiative