Thirty-second meeting of the Board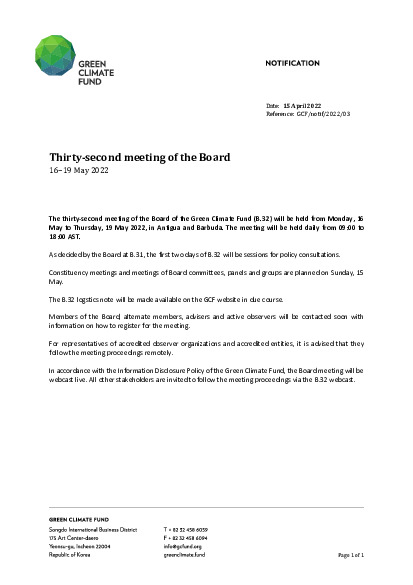 Download
English
|
PDF
|
197.68 KB
Thirty-second meeting of the Board
The thirty-second meeting of the Board of the Green Climate Fund (B.32) will be held from Monday, 16 May to Thursday, 19 May 2022, in Antigua and Barbuda. The meeting will be held daily from 09:00 to 18:00 AST.
As decided by the Board at B.31, the first two days of B.32 will be sessions for policy consultations.
Constituency meetings and meetings of Board committees, panels and groups are planned on Sunday, 15 May.
The B.32 logstics note will be made available on the GCF website in due course.
Members of the Board, alternate members, advisers and active observers will be contacted soon with information on how to register for the meeting.
For representatives of accredited observer organizations and accredited entities, it is advised that they follow the meeting proceedings remotely.
In accordance with the Information Disclosure Policy of the Green Climate Fund, the Board meeting will be webcast live. All other stakeholders are invited to follow the meeting proceedings via the B.32 webcast.
Document type
Notification