Thirtieth meeting of the Board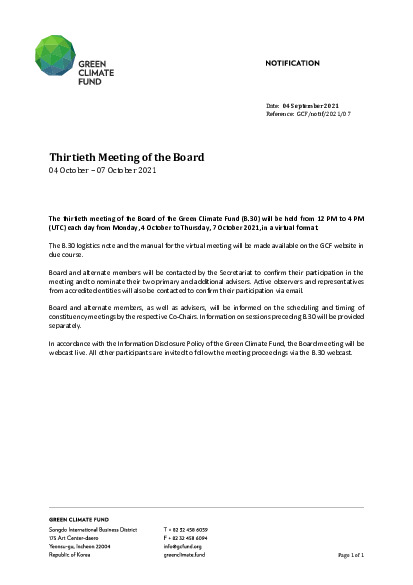 Download
English
|
PDF
|
188.67 KB
Thirtieth meeting of the Board
The thirtieth meeting of the Board of the Green Climate Fund (B.30) will be held from 12 PM to 4 PM (UTC) each day from Monday, 4 October to Thursday, 7 October 2021, in a virtual format.
The B.30 logistics note and the manual for the virtual meeting will be made available on the GCF website in due course.
Board and alternate members will be contacted by the Secretariat to confirm their participation in the meeting and to nominate their two primary and additional advisers. Active observers and representatives from accredited entities will also be contacted to confirm their participation via email.
Board and alternate members, as well as advisers, will be informed on the scheduling and timing of constituency meetings by the respective Co-Chairs. Information on sessions preceding B.30 will be provided separately.
In accordance with the Information Disclosure Policy of the Green Climate Fund, the Board meeting will be webcast live. All other participants are invited to follow the meeting proceedings via the B.30 webcast.
Cover date
04 September 2021
Document type
Notification