Sustainable Communities for Climate Action in the Yucatan Peninsula (ACCIÓN Yucatan)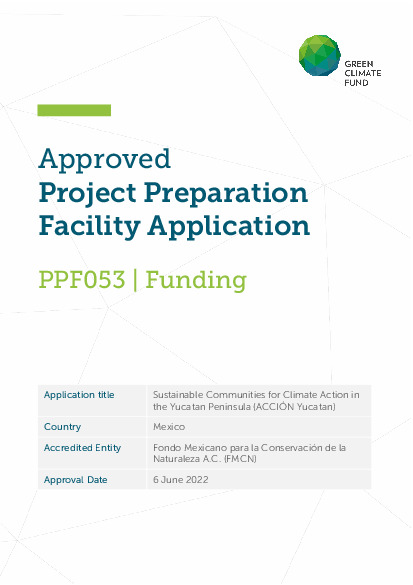 Download
Sustainable Communities for Climate Action in the Yucatan Peninsula (ACCIÓN Yucatan)
The Project "Sustainable Communities for Climate Action in the Yucatan Peninsula" (ACCIÓN) seeks to increase climate resilience of vulnerable populations, ecosystems, and productive systems in the coasts of the Yucatan Peninsula through Ecosystem-based Adaptation (EbA) and sustainable livelihoods. This will be achieved by: (i) strengthening the adaptive capacity of communities by improving coastal and marine ecosystems' management and climate resilience, (ii) reinforcing community-based enterprises (CBE) to sustainably manage their natural capital and increasing their resilience, (iii) catalyzing private funds to support EbA, and (iv) managing knowledge and promoting coordination.
PPF support is needed to conduct the following activities to help identify and assess existing conditions, gather available information and fill-in gaps to refine activities in order to develop a robust and solid full funding proposal: (i) pre-Feasibility and feasibility studies; (ii) environmental, Socio-economic and Gender assessments and plans, (iii) risk assessment and mitigation plan; (iv) identification of project-level indicators including the measurement of GCF core indicators; (v) advisory services to design financial structure mechanisms for coastal and marine ecosystems' conservation, restoration and management and productive systems, including a blue carbon market mechanism; (vi) other project preparation activities, including communications materials and due diligence of the executing entities.
Document type
Approved project preparation funding application
Organisation
Fondo Mexicano para la Conservación de la Naturaleza A.C.