Supporting Yemen's Low Emissions Development through the preparation of the Nationally Determined Contribution (NDC), while enhancing required capacities and project pipeline in support of reducing emission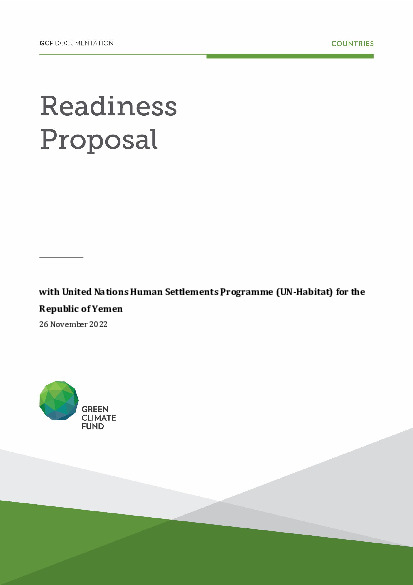 Download
Supporting Yemen's Low Emissions Development through the preparation of the Nationally Determined Contribution (NDC), while enhancing required capacities and project pipeline in support of reducing emission
The goal of the proposed project is to ensure enabling conditions for the Government of Yemen and its key actors to effectively implement its priority actions for reducing its GHG emissions in line with the Paris Agreement. The project will achieve this goal based on its transformational logic as follows: IF the project clarifies roles and responsibilities among the LED Network members and improves knowledge and engagement of the LED network members on mitigation, identifies long-term readiness needs for climate change mitigation, updates Yemen's Nationally Determined Contribution (NDC), and develops a good quality concept note on climate change mitigation that aims at operationalizing the NDC, THEN Yemen's enabling conditions for climate change mitigation will be strengthened significantly BECAUSE key stakeholders, including the private sector, will be actively engaged in planning, implementing, and monitoring climate change mitigation initiatives, guided by government's continued commitment and leadership in addressing climate change, the country's updated international commitment, and the increased international support in term of climate finance and technical assistance. 
To achieve this goal, the project will remove the following critical barriers through the delivery of five GCF Readiness Outcomes and project specific outputs. 
Lack of capacity and resources to operationalize dedicated institutional arrangements for effective intersectoral dialogue and coordination. 
Limited private sector interest and engagement in climate change mitigation activities due to a lack of plans and strategies to incentivize investment by the sector. 
Limited technical expertise available in the country to set clear mitigation policy directions and priority actions and identify gaps in enabling conditions. 
Limited national expertise and resources for mitigation actions due to competing priorities. 
The primary beneficiary of the proposed project is the Government of Yemen and key actors in the sectors relevant to climate change mitigation. More specifically, the project will support the NDA/EPA, Ministry of Finance, Ministry of Planning and International Cooperation, LED Network/Committee members, including the private sector, local banks, Accredited Entities (AEs), future Direct Access Entities (DAEs), potential Executing Entities (EEs), and Delivery Partners (DPs). 
Cover date
26 November 2022
Document type
Approved readiness proposal