Strengthening Strategic Framework and Institutional Capacity to Enhance Nationally Determined Contribution (NDC) Implementation in Saint Kitts and Nevis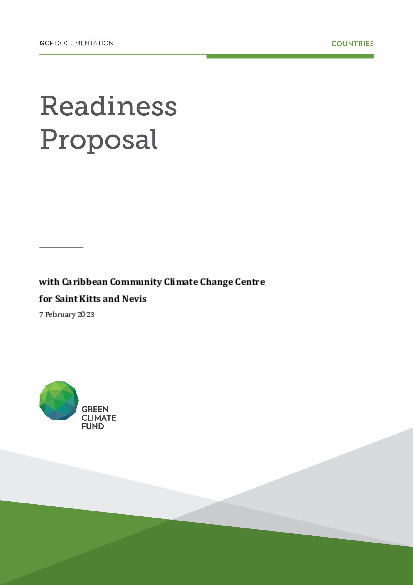 Download
Strengthening Strategic Framework and Institutional Capacity to Enhance Nationally Determined Contribution (NDC) Implementation in Saint Kitts and Nevis
As a Small Island Developing State (SIDS), Saint Kitts and Nevis is vulnerable to the impacts of climate change such as changes in precipitation through the reduction of precipitation and the occurrence of heavy rainfall periods. Other impacts of climate change for Saint Kitts and Nevis includes increasing surface temperature, hurricanes, and sea level rise.
Characteristics of the country such as the relatively small land sizes of its twin islands, small population and economy, scarce resources, and its susceptibility to natural hazards, further increases the country climate vulnerability. The climate changed induced impacts and hazards, affect the socio-economic development of the country, particularly by affecting vital national sectors which includes Tourism, Health, Agriculture, Water, Fisheries, Coastal Zone, Energy, Transport, and Infrastructure (inland and coastal infrastructure).
To build the country's climate resilience against the unavoidable impacts of climate change, their NDC target is being pursed through the implementation of the NDC implementation plan and the finance strategy. The NDC was instituted in 2021 and the country has been engaging, consulting, and dialoguing with the various national implementing bodies such as the EA & PSIP (Economic Affairs and Public Sector Investment Programme) from the Ministry of Sustainable Development and the Department of Environment from Ministry of Environment and Cooperatives along with other government ministries and sectorial stakeholders to collectively advance the implementation of its NDC implementation plan and utilize its NDC finance strategy to access and mobilize finance to realize NDC priority activities and investments. The problem that is affecting the country is that their national efforts to advance its national adaptation and mitigation priority activities articulated in their NDC implementation plan are being hindered by systematic barriers such as:
Weak institutional arrangements and coordination mechanism
Limited availability, and access to climate evidence
Outdated strategic framework,
Limited access to climate finance
Limited knowledge and awareness of the NDC and its implementation plan
Lack of guidelines and capacities to effectively address gaps highlighted in DAE gap assessment
This problematic national situation is blocking Saint Kitts and Nevis from effectively and efficiency implementing climate resilience activities under its NDC implementation plan and from achieving its NDC target. To address the barriers and solve the problem, the goal of this readiness support is focused on advancing the country's NDC implementation by strengthening the institutional capacity and coordination of national actors particularly for the EA & PSIP, the Ministry of Environment, associated Government Ministries, key stakeholders from the Agriculture, Tourism, Health, Energy, Transport sectors, Civil Society Organizations (CSOs), the private sector, academia and women's groups by enhancing the availability of climate evidence, updating its strategic framework and building awareness for effective delivery of national climate resilient investment projects and activities in line with national planning, programming and sustainable development goals.
Cover date
07 February 2023
Document type
Approved readiness proposal
Organisation
Caribbean Community Climate Change Centre