Strengthening Paraguay's capacity to access climate finance through DAEs nomination, Sub-national Climate Finance Roadmap development and pipeline strengthening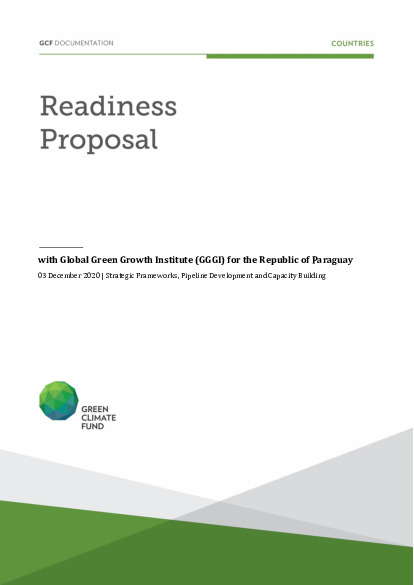 Download
Strengthening Paraguay's capacity to access climate finance through DAEs nomination, Sub-national Climate Finance Roadmap development and pipeline strengthening
Total greenhouse gas (GHG) emissions in the Republic of Paraguay in 2015 was 75,099.89 Gg CO2eq1. According to the World Resources Institute Climate Analysis Indicators Tool (WRI CAIT), Paraguay's GHG emissions increased by 88.85 MtCO2e (94%) from 1990 to 2014. Paraguay's GHGs profile is dominated by emissions from the agriculture sector which accounts for 52.9% of the country's total emissions. Land use, land use change and forestry (LULUCFs) is the second highest source of emissions (30.7%) followed by energy, waste, and industrial processes (IPPU) contributing 12.03%, 2.5%, and 1.8% of total emissions, respectively. The main direct causes of deforestation include expansion of agriculture and livestock, wood extraction, infrastructure extension, biomass burning and use of fire to clear land. Paraguay pledged in its NDC to reduce its GHG emissions by 20% by 2030, relative to its 2030 business-as-usual emission levels, with 2000 as base line2. Paraguay also published several guiding strategies, including its National Climate Change Plan, National Development Plan 2030, national policies and regulations related to mitigation and adaptation actions, which identify the following national climate change priorities:  
Promote the generation and use of renewable sources 
Promote sustainable public and private transport  
Change technology in the industrial sector in favor of cleaner and more efficient sources of energy  
Reduce and avoid deforestation  
Improve access to sustainable services, including sustainable transport and solid waste management  
Expand the infrastructure of solid waste management services in the urban, rural and industrial areas 
Promote energy efficiency in key priority sectors 
The Readiness proposal targets climate change needs and priorities in the National Plan to Climate Change while building on ongoing and past donor funded initiatives. 
Cover date
03 December 2020
Document type
Approved readiness proposal
Organisation
Global Green Growth Institute