Strengthening of the Niue NDA and Niue's Access to Climate Finance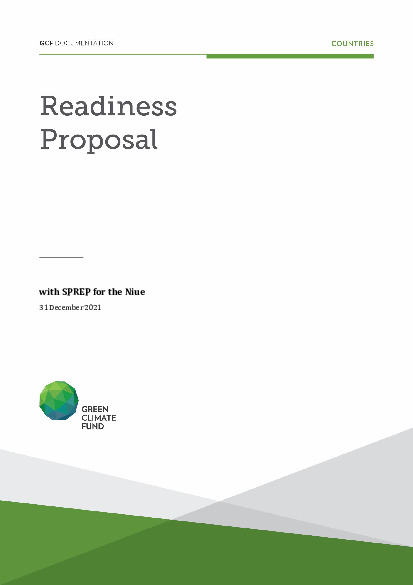 Download
Strengthening of the Niue NDA and Niue's Access to Climate Finance
The GCF Readiness will provide support for Niue's National Designated Authority (NDA) to strengthen Niue's institutional mechanisms to fulfil specific climate financing functions, particular to the GCF, and to meet its climate targets and ambitions. To do this the proposed project aims to address four key challenges: (i) human resource capacity, (ii) national institutional capacity, (iii) Niue's access to climate finance with the GCF and (iv) private sector capacity.
This Niue Readiness Support request will build upon outputs achieved from the first Readiness project to:
Focus upon continued strengthening of the NDA capacity to embed its climate financing functions across government through the improvement of internal processes and systems;
Utilise the PricewaterhouseCooper (PWC) gap assessment and action plan to progress work for the accreditation of a national Direct Access Entity;
Strengthen strategic frameworks to guide and inform stakeholders on Niue's priorities and needs to achieve climate change targets;
Strengthen the engagement with, and capacity of, the private sector to support climate finance activities, projects and national priorities;
Commence progression of Niue's Country Programme through the development and submission of concept notes to the GCF;
Document and share best practices and lessons learned from climate financing activities with peers in Pacific Island countries.
Section 2 (Situation Analysis) and Section 3 (Logical Framework) of this proposal provides detailed discussion of the proposed outputs and activities.
The Readiness project is targeting both public and private sector beneficiaries including Government of Niue departments (e.g. Office of the Premier / NDA Office, Project Oversight Steering Team (POST), Department of Finance and Planning, and Sector personnel with project management responsibilities) and private sector stakeholders (e.g. Niue Chamber of Commerce and its business membership, Niue Development Bank).
Cover date
31 December 2021
Document type
Approved readiness proposal
Organisation
Secretariat of the Pacific Regional Environment Programme