Strengthening the NDA and climate change frameworks for mobilizing climate financing in Benin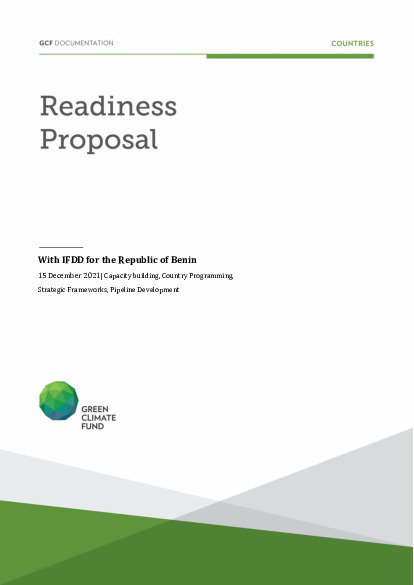 Download
Strengthening the NDA and climate change frameworks for mobilizing climate financing in Benin
Benin is requesting support from the GCF through this readiness proposal to strengthen its technical and operational capacities and structure its collaboration with the Fund. The proposal aims mainly at the following objectives:
Making the NDA and the NDA Council operational in the processes of engaging with the GCF
It provides Benin with a country programme that lays out its climate finance priorities for both mitigation and adaptation and is continuously updated.
Assisting Benin in preparing and submitting a project concept note from one of the priorities identified in the country programme.
To attain these objectives, the proposal will lead to implement the outputs below:
Needs assessment on areas of capacity needs for Benin is undertaken with capacity building areas identified and capacity building program developed for NDA and the NDA Council on climate finance, the GCF tools, processes, and requirements for developing, reviewing, and prioritizing bankable project proposals.
The country programme development process is initiated with all stakeholders' participation, and a formal stakeholders' engagement plan is developed.
A climate finance mobilization strategy and an appropriate mechanism for monitoring climate finance flows are developed and operationalized.
A projects pipeline is developed through the stakeholders' consultation process, and a concept note is developed and submitted to the GCF.
Cover date
15 December 2021
Document type
Approved readiness proposal
Organisation
Institut de la Francophonie pour le Développement Durable