Strengthening Institutional Information Services to support decision-making for Climate Change in the AFOLU sector in Angola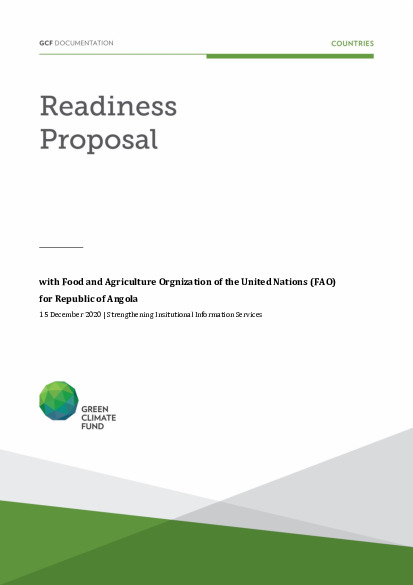 Download
Strengthening Institutional Information Services to support decision-making for Climate Change in the AFOLU sector in Angola
Angola has been working systematically to build a policy framework to guide strategic investments to adapt and mitigate climate change effects, the most emblematic is the Climate Change National Strategy 2018-2030 (ENAC).
However, there is a significant challenge to achieve the intended results laid out in these national policies and international commitments on climate change, which is the lack of systematic, accurate, and field-based data and analysis to inform these investments. This constraint hinders the selection of focus areas and their characterization based on updated evidence, definition of impact indicators, and monitoring of results. Impact evaluation mostly references projects on a case-by-case basis, without systemic evaluation, and without nurturing any Institutional Information Systems for Climate Change.
Although there are ongoing efforts for monitoring of climate change and its impacts on different sectors, it is scattered and uncoordinated between four national public institutions and in some local provinces. These unarticulated efforts result in scattered information, poor early warning systems to take early actions, inefficiency in data gathering and integration, discrepancies in analysis, poor engagement with end-users and most importantly the lack of an integrated vision to address climate change investments to a national and subnational scale. Naturally this problem also hampers Angola ́s capacities to report on the UNFCC and progress in INDC. Once Angola ratifies the Paris Agreement (planned for May 2021) there are likely to be significant limitations in implementing its Enhanced Transparency Framework (ETF).
The core objective of this RP is to strengthen Institutional Information Services related to the AFOLU sector that will generate data and evidence to better inform the implementation of the National Climate Change Strategy 2018-2030.
Cover date
15 December 2020
Document type
Approved readiness proposal
Organisation
Food and Agriculture Organization of the United Nations