Strengthening the foundation for a climate responsive agricultural sector in the Caribbean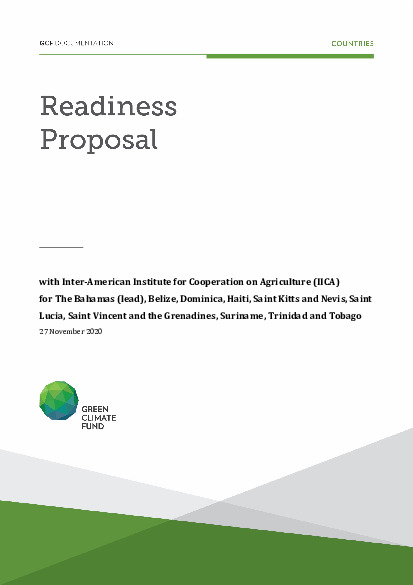 Download
Strengthening the foundation for a climate responsive agricultural sector in the Caribbean
Three of the top 10 countries facing the highest level of climate risk globally are located in the Caribbean Region. This region comprises Small Island and Low-Lying Coastal developing states (SIDS) that are particularly vulnerable to the effects of climate change and variability. Owing to its high dependency on natural system resources and multifunctional role in socioeconomic development, the agriculture sector has been identified as one of the most vulnerable sectors to climate change in Caribbean SIDS. Despite this, the agriculture sector has not been meaningfully prioritized in climate finance programming and processes related to Nationally Determined Contributions (NDCs). In light of projections of increasing frequency of extreme climatic events and pandemic threats such as COVID-19, opportunities for climate resilient agriculture to enhance food security and rural livelihoods while reducing GHG emissions, as part of the Agriculture Forestry and other Land Use (AFOLU) category, are increasing in importance. Though useful, past regional multi-sectoral initiatives have not resulted in the development of a more programmatic and iterative approach to raise the profile of agriculture for accessing GCF resources and other international sources of climate finance. Moreover, current GCF-funded activities on agriculture are national in scope and limited to a few activity areas that may not holistically address common sectoral challenges in the region or capitalize on opportunities to accelerate action through South-South exchange. The specific challenges and existing gaps relate to the limited capacity of the agricultural sector to identify, compile and manage data and information on needs, practices and technologies to catalyze low-emission and climate resilient agriculture investments. This, combined with weak linkages to other sectors, limits the agricultural sector's access to international climate finance necessary for building resilience and promoting low-carbon development.
The current readiness request, targeting nine countries in the CARICOM sub-region (The Bahamas, Belize, Dominica, Haiti, St. Kitts and Nevis, St. Lucia, Saint Vincent and the Grenadines, Suriname, Trinidad and Tobago) posits that the profile of the agricultural sector in GCF's climate financing prioritization processes can be raised by increasing awareness of the sector's potential contribution to climate solutions, identifying promising practices and technologies to enhance resilience, and quantifying its contribution to GHG reductions. This is viewed as a foundational part of an evidence-based and inter-sectoral strategy for developing and rebranding Caribbean agriculture as "low-emissions", to enhance market opportunities and attract private sector investments. More specifically, the objectives of the request are to:
improve the enabling conditions to design, implement and evaluate options for enhanced climate action in the agricultural sector by strengthening policies, capacities, frameworks, methods and institutional arrangements for the collection, monitoring, measuring, reporting, verifying (MRV) and analysing agricultural and associated activity data1 from the sector (Outcomes 1.3 & 2.2).
increase the number of projects identified for development and investment in a pipeline of evidenced-based and bankable projects aligned with regional and national priorities as informed by climate risk assessments of the agriculture sector (Outcome 4.1).
disseminate best practices for institutional capacity building, coordination and pipeline development of more robust proposals for building climate-resilience along prioritized agricultural value chains in the Caribbean region, with a focus on cultivating the innovative capacity of the region ́s youth (Outcome 5.1).
Successfully realizing these key objectives will strengthen the foundation for climate responsive (adaptation and mitigation) agriculture in the Caribbean as an approach for building more resilient food systems. The main beneficiaries of the readiness activities include civil, public and private entities including the NDAs of participating countries, government ministries (agriculture/fisheries/land, planning/development and finance, the environment, statistics), farmers and non-governmental organizations, financial institutions, and agricultural technicians, entrepreneurs and advocates including youth.
Cover date
27 November 2020
Document type
Approved readiness proposal
Organisation
Instituto Interamericano de Cooperación para la Agricultura
Country
Bahamas
Belize
Dominica
Haiti
Saint Kitts and Nevis
Saint Lucia
Saint Vincent and the Grenadines
Suriname
Trinidad and Tobago