Strengthening the capacity of the Palestinian Water Authority to assess and address the impacts of climate change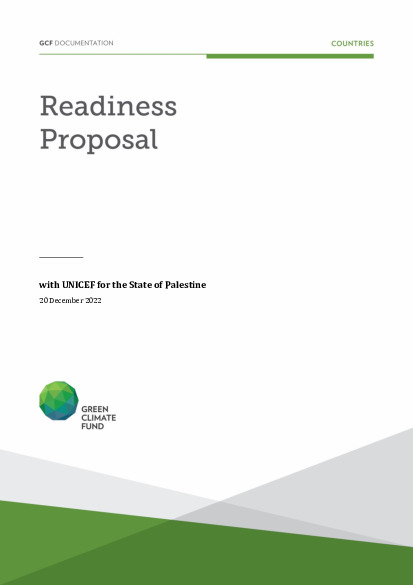 Download
Strengthening the capacity of the Palestinian Water Authority to assess and address the impacts of climate change
The Palestinian Water Authority (PWA) needs to enhance its capacity to understand and model future climate change risks and impacts on the water and sanitation sector by organization and technical capacity improvements. This readiness proposal project goal is that the water and sanitation sector has established capacity to model, assess and prioritize climate-related risks to support the development of climate resilient sustainability plans and establish a pipeline of transformational projects. 
The proposed project supports the Government of the State of Palestine in enhancing the climate resilient capacity of the PWA, Palestinian Meteorological Department (PMD) and key stakeholder institutions responsible for planning and delivering water and sanitation services. The project will help ensure a more sustainable response to the increasing threats posed by impacts of climate change on key water and sanitation services.  
This proposal is aligned with the needs identified in the National Adaptation Plan (NAP) (2016) and is consistent with the government's strategic vision for climate change adaptation contained in the Nationally Determined Contribution (NDC) and its updated submission of October 2021.  
This readiness proposal project objective is to strengthen the capacity of institutions supporting the water and sanitation sector to enhance vertical and horizontal coordination for climate change adaptation planning, facilitate the mainstreaming of climate risks and develop a pipeline of priority climate change adaptation investments.  
Through this project, UNICEF will collect all the relevant data, assessments and maps related to climate change to be used by all parties to develop any other assessments or modelling, highlighting where there are data gaps. The EQA has been highly involved in the design and development of this proposal and will serve a key role in the implementation, which includes the convening of key stakeholders to agree on data gaps and efforts to address these, and this learning can be incorporated into other climate change fora at national and sub-national levels which are being convened by the NDA.  
Cover date
20 December 2022
Document type
Approved readiness proposal