Strengthening the capacity of Direct Access Entities through the Community of Practice for Direct Access Entities (CPDAE) to access climate finance and implement adaptation and mitigation programs and projects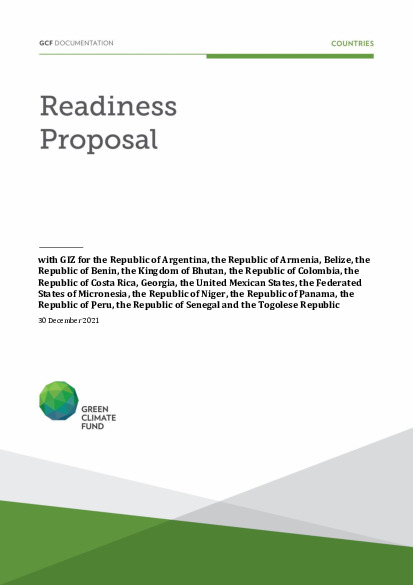 Download
Strengthening the capacity of Direct Access Entities through the Community of Practice for Direct Access Entities (CPDAE) to access climate finance and implement adaptation and mitigation programs and projects
This readiness request is submitted as part of an ongoing effort to further the complementarity and coherence between the Adaptation Fund (AF) and the Green Climate Fund (GCF) through the Community of Practice for Direct Access Entities (CPDAE).  
The Adaptation Fund (AF) and the Green Climate Fund (GCF) have been promoting Direct Access Modality as a best practice approach to enhance country ownership of climate projects and ensure that developing countries remain in the driving seat of climate finance. In that regard, the AF's National Implementing Entities (NIEs) and the GCF's Direct Access Entities (DAEs) are important to promote country ownership and understanding national priorities and contributions towards lowemission and climate-resilient development pathways. 
Nevertheless, the CPDAE is still at an early stage and there are several gaps that hinder its full operationalization and the optimal performance of its members. These include: 
Lack of specific features in the existing governance framework and limited communication and outreach mechanisms; 
Absence of a strategic framework and implementation roadmaps adapted to each language group from the CPDAE (English, Spanish and French) and a monitoring and evaluation framework; 
Lack of appropriate and dedicated materials and platform for knowledge management and lessons sharing within the CPDAE and key stakeholders (NDAs, AF, GCF, other); 
Insufficient in-house capacities of the entities for projects design, development, implementation and evaluation, as well as for reaccreditation/accreditation upgrade process; 
Difficulties for identifying and manage high quality experts to support project design and development. 
In that sense, the aim of this readiness proposal is to strengthen the CPDAE at an institutional level, and the capacity of its members to perform better and access climate finance and develop and implement adaptation and mitigation projects and programs efficiently. 
Cover date
30 December 2021
Document type
Approved readiness proposal
Organisation
Deutsche Gesellschaft fuer Internationale Zusammenarbeit (GIZ) GmbH
Country
Argentina
Armenia
Belize
Benin
Bhutan
Colombia
Costa Rica
Georgia
Mexico
Micronesia (Federated States of)
Niger (the)
Panama
Peru
Senegal
Togo