Strategic Frameworks support for Lao PDR through FAO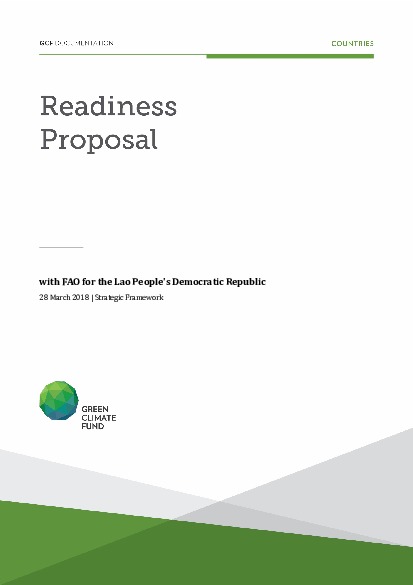 Download
Strategic Frameworks support for Lao PDR through FAO
The Lao People's Democratic Republic has identified the forestry sector as a key contributor to its climate mitigation agenda through its Nationally Determined Contribution (NDC). The country has been engaging in REDD+ readiness since 2008, and is progressing through the readiness to demonstration phases of REDD+. Reflecting the forestry sector contribution indicated in the NDC, the National REDD+ Strategy, which has identified Zero Deforestation Agriculture as a necessary policy direction, is currently under consultation.
Among the core barriers hindering progress with Lao's Readiness include the coordination challenges among key actors in both public and private sectors, including between the forestry sector, agriculture, and other land use sector as well as the climate change focal point, including on monitoring and reporting of related climate financing, investment planning and private-sector engagement.
The proposed Readiness project will address such barriers through: 1) formalization of coordination mechanisms; 2) development of monitoring and reporting processes; 3) preparation of a Green Climate Fund (GCF) climate investment plan for the forestry and REDD+ sectors; and 4) measures to enhance private sector engagement in financing and implementation of the REDD+ strategy. The Proposal also aims to strengthen the institutional foundation for a Zero Deforestation Agriculture policy to address the most expansive driver of deforestation in the Lao People's Democratic Republic.
Document type
Approved readiness proposal
Organisation
Food and Agriculture Organization of the United Nations
Country
Lao People's Democratic Republic