Strategic frameworks support for Antigua and Barbuda, Belize, Grenada, Jamaica, Saint Lucia, Saint Kitts and Nevis, Suriname through CANARI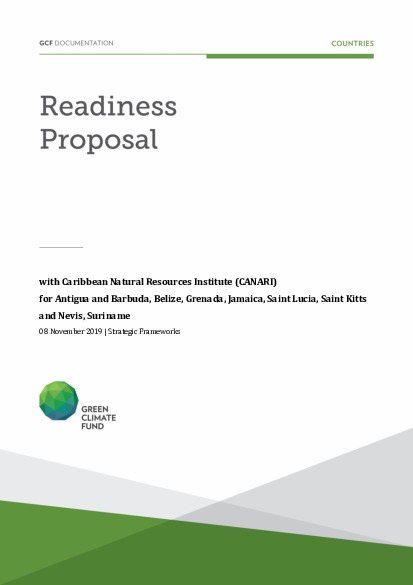 Download
Strategic frameworks support for Antigua and Barbuda, Belize, Grenada, Jamaica, Saint Lucia, Saint Kitts and Nevis, Suriname through CANARI
Climate change poses a critical challenge for Caribbean small island developing states (SIDS). While civil society organisations (CSOs) are well positioned to lead "bottom up" approaches to reduce vulnerability and build the resilience of high-risk communities and their livelihoods, they currently have limited access to and engagement in climate finance mechanisms.
Enabling CSO leadership for climate resilience and enhancing CSOs' capacity to access climate finance and deliver climate change projects nationally and regionally is critical. This was emphasised at the GCF Structured Dialogue for the Caribbean in St. George's, Grenada in November 2018, where the Government of Jamaica and Caribbean Natural Resources Institute (CANARI) were identified to lead the initiative to seek GCF Readiness and Preparatory Support to address this gap.
This project seeks to enhance civil society's capacity, including knowledge, skills and organisational structures, and the enabling external institutions to improve access to climate financing and delivery of climate change adaptation and mitigation in the Caribbean.
Cover date
08 November 2019
Document type
Approved readiness proposal
Country
Antigua and Barbuda
Belize
Grenada
Jamaica
Saint Kitts and Nevis
Saint Lucia
Suriname