Scaling-Up Resilience in Africa's Great Green Wall (SURAGGWA)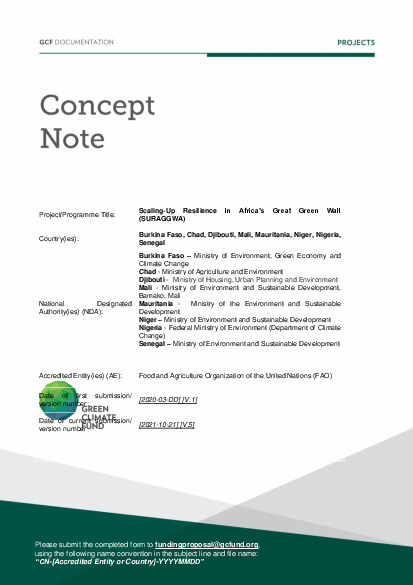 Download
Scaling-Up Resilience in Africa's Great Green Wall (SURAGGWA)
The Sahel has experienced some of the most extreme climate events on earth in the 20th century, and data from 1900 shows clear long-term climate change with a tendency towards higher temperatures, lower precipitation and increased frequency of extreme event stressors such as floods and droughts. These have severely impacted both the local populations and the Sahelian agro-sylvo-pastoral landscapes, resulting in decreasing possibilities for the ecosystems to continue to provide their many services, ensuring sustainable livelihoods, and avoiding mounting terrorist and herder/farmer conflicts and out-migration.
The SURWAGWA project proposes to carry out an urgent and major paradigm shift in six countries which are extremely vulnerable to climate change (Burkina Faso, Chad, Mali, Niger, Nigeria and Senegal) within the African Union's Great Green Wall (GGW) initiative adopted in 2007. The SURRAGWA will do so by removing barriers to heightened resilience and greater mitigation, through: (i) scaling-up of successful restoration practices with native species; (ii) supporting the development of climate- resilient, low emission value chains of non-timber forest products in support of vulnerable communities' livelihoods, and (iii) strengthening the Great Green Wall's regional and national institutions
The project will build on the vast and long lasting support FAO has provided to Sahelian countries on the GGW especially the Action Against Desertification (AAD) project implemented by FAO and funded by European Union and scale up successful practices from the GEF/World Bank (BRICK project), African Development Bank (Programme for Integrated Development and Adaptation to Climate Change in the Niger Basin) and FAO Operation Acacia in support to the Gum arabic sustainable production. The multi-country implementation approach includes a regional coordinating body (FAO with the Pan- African Agency of the Great Green Wall), specialized regional and national agencies and NGOs. Locally, communities will have the key role. These actions will directly contribute to three of GCF's Results Areas: reduced emissions from forestry and land use; increased resilience of most vulnerable people and communities; and increased resilience of ecosystem and ecosystem services.
The SURAGGWA multi-country project is part of the regional GCF-umbrella programme now under development, together with the GAMS FAO GCF project in Sudan, recently submitted. As such, the project will strongly coordinate with other projects under the GCF- GGW programme to ensure an harmonized approach and increase the overall impact of the programme.
Cover date
03 December 2021
Document type
Concept note
Organisation
Food and Agriculture Organization of the United Nations
Country
Burkina Faso
Chad
Djibouti
Mali
Mauritania
Niger (the)
Nigeria
Senegal