Scaling up green finance practices: A blueprint to break- through into a climate resilient Cook Islands as a catalyst to mobilize private sector investment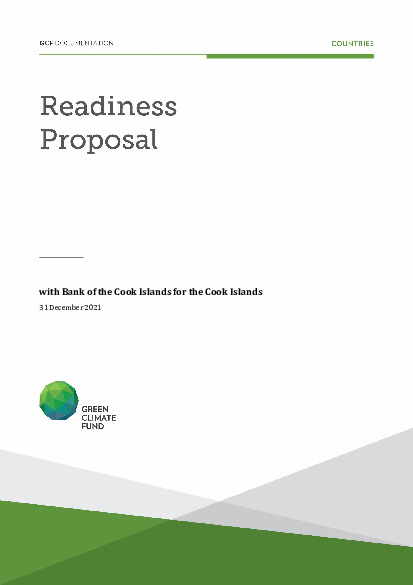 Download
Scaling up green finance practices: A blueprint to break- through into a climate resilient Cook Islands as a catalyst to mobilize private sector investment
The Cook Islands is highly vulnerable to climate change impacts, in particular coastal erosion and inundation, droughts, flooding, cyclones, increasing temperatures, changing ocean currents and abnormal weather patterns. The Cook Islands are a geological mix of sand cays, low-lying coral atolls, raised coral islands, and small volcanic islands, situated in the Pacific Ocean. Climate change impacts are intensified for Small Islands Developing States (SIDS) because of their small geographical area, isolation and exposure. As well as the physical impact, there are flow-on economic impacts. Losses in the productive sectors and impacts on tourism will all affect income-generation in those sectors.
In order to meet the above challenges, the Cook Islands submits its 7th request for Readiness Support.
The Cook Islands is seeking GCF accreditation for the Bank of the Cook Islands which would make it the second national AE. Readiness Four included activities for BCI to achieve Stage One of the accreditation process. This Readiness Proposal is focussed on BCI completing stages two and three and signing off on the Accreditation Master Agreement.
The GCF modality of on-lending is an avenue not currently available in the Cook Islands, accordingly green finance practices of tailoring affordable and gender- inclusive financing for households and businesses are in turn also not well established. Through this proposal The Cook Islands seeks to address these gaps through direct access accreditation for on-lending
The Ministry of Finance and Economic Management (MFEM) is a Cook Islands Government entity that has direct access accreditation in grants only, accordingly accreditation aspirations for BCI are complimentary.
This readiness support funding is the first proposal made with Bank of the Cook Islands as the Delivery Partner. Implementation of this readiness program will further build capacity and capability in terms of strong coordination, wider awareness and understanding, and close partnerships, particularly between the NDA and BCI.
The Goal for this Readiness proposal is for the Bank of the Cook Islands to strengthen institutional capacity, improving knowledge in access to climate finance to compliment the Cook Islands government's strategy and approach towards dealing with climate threats.
Previous Readiness Support has contributed to significant milestones: improving the policy environment, developing a country programme, improving stakeholder engagement and awareness, developing the Cook Islands' ability to access climate finance, and supporting accreditation for direct access.
The ongoing emphasis on national processes for accessing Readiness stream funding has involved sequential building of both capacity and capability in terms of strong coordination, wider awareness and understanding, and close partnerships.
The Cook Islands journey towards achieving long-term low-emission and climate- resilient development can only be sustained with the assistance of agencies such as the GCF. Achieving the goal of this proposal supports the country on this pathway which directly benefits the whole resident population of the Cook Islands, which is most recently recorded as 14,802: 7292 men and 7510 women.
Cover date
31 December 2021
Document type
Approved readiness proposal