Annex VII: SAP Review Toolkit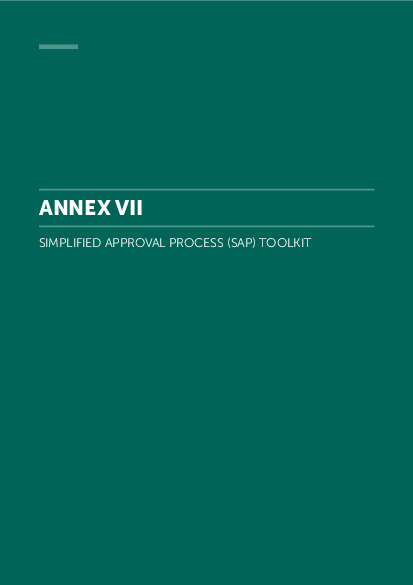 Download
English
|
PDF
|
308.76 KB
Annex VII: SAP Review Toolkit
This document is the annex VII to the GCF Appraisal Guidance.
The objective of this annex is to provide specific guidance on how the Simplified Approval Process (SAP) differs from the regular Proposal Approval Process (PAP) and present a dedicated toolkit for streamlining and ensuring consistency of SAP reviews among all the actors involved in the review process. It specifies the Standard Operating Procedures (SOPs) that apply to the review of the SAP and the SAP-specific criteria that the CIC will apply towards the consideration of SAP proposals.
To be eligible for the SAP, a proposal should meet the eligibility criteria set by decision B.32/05. Namely, projects and programmes eligible for SAP are those that:
Request a GCF contribution of up to USD 25 million; and
Entail environmental and social risks and impacts that are classified as minimal to none.
This annex is composed of two parts:
SAP concept note and funding proposal review toolkit;
SAP Standard Operating Procedures.
Cover date
09 September 2022
Document type
Operational document