Readiness Support for Building Community Resilience through Application of Traditional and Local Knowledge (TLK) System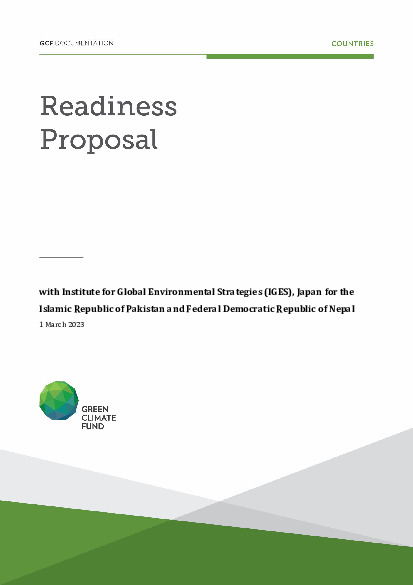 Download
Readiness Support for Building Community Resilience through Application of Traditional and Local Knowledge (TLK) System
Across South Asia, few countries and their stakeholders have the capacity to plan and implement climate change adaptation (CCA) actions by incorporating available traditional and local knowledge (TLK) systems. TLK refers to the understandings, skills and philosophies developed by societies with long histories of interaction with their natural surroundings and it informs decision-making about fundamental aspects of day-to-day life (including daily activities to longer term actions) in many communities, including responses to climate change (based on definitions by IPCC (2018)1 and UNESCO2). Although TLK systems can be instrumental for CCA, including as nature-based solutions, they are often overlooked and not sufficiently explored during the formulation of programs, projects and actions to address climate change. TLK systems at the local level are not systematically cataloged or utilized in climate change resilience building. The bearers of TLK themselves may be unaware of opportunities for incorporating TLK into climate interventions in a systematic manner. 
This proposal aims to establish an enabling environment for TLK systems to be regularly and systematically considered by the National Designated Authorities (NDAs), Direct Access Entities (DAEs), Accredited Entities (AEs), potential executing entities (EEs), and other stakeholders, including the private sector as robust adaptation solutions and a bankable investment strategy for addressing climate change impacts at the local level. Given the commonality of these capacity gaps and circumstances across Asia, the project will introduce a regional approach to addressing capacity gaps and constraints across countries on a regional scale to reduce transaction costs and improve learning and synergies among the countries. The proposed project covers an initial phase with Nepal and Pakistan with an intention to further build and scale up the effort in future phases to support more countries based on lessons learned in Nepal and Pakistan. The project will achieve its goal by deploying a two-pronged approach to (i) help countries identify, validate, document, map, share and utilize available TLK systems as a foundation of adaptation and resilience building at the local level in a cost-effective manner, and (ii) equip national stakeholders to engage more effectively with the GCF through the capacity instilled in this project to design climate finance proposals that involve all relevant stakeholders and systematically incorporate TLK components, as relevant.  
The project's paradigm-shifting logic is predicated upon the behavioral change process and improved understanding instigated by the project to reinforce the role of TLK systems in climate investment and national, sectoral, and local policy processes and action planning for building climate resilience. The primary beneficiaries of the proposed project will be the NDAs, DAEs, AEs, potential EEs, and other stakeholders, including indigenous peoples and local communities, particularly the bearers of TLK, and Civil Society Organizations (CSOs) and the private sector, through increased integration of TLK systems into future climate actions and investment. 
Document type
Approved readiness proposal