Readiness Support for the Accreditation of Kasikornbank, Updating of Thailand's Country Programme, Development of Climate Finance Strategy, and Design of Blended Circular Economy Financing Facility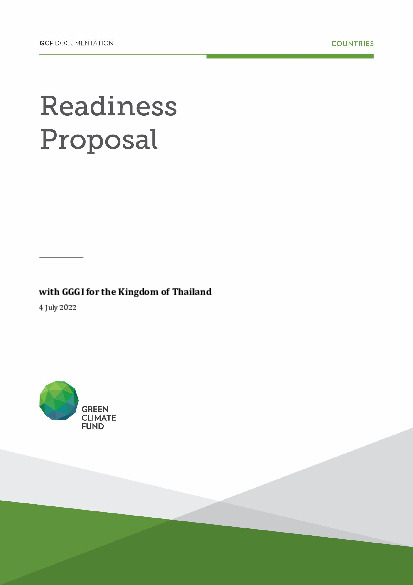 Download
Readiness Support for the Accreditation of Kasikornbank, Updating of Thailand's Country Programme, Development of Climate Finance Strategy, and Design of Blended Circular Economy Financing Facility
Objectives
This grant will contribute to ensuring private sector engagement in climate change mitigation and incentivize domestic financial institutions to provide investment for the projects. The following activities will support Thailand's circular economy transition and advanced waste management practices.
Support DAE accreditation of Kasikornbank with the GCF and technical advice in its accreditation application process. Kasikornbank is Thailand's second largest lender by assets. The bank has already implemented various standards required for accreditation but is yet to formally start the accreditation process. Additional support is needed and will be provided to implement environmental and social safeguards and gender standards to meet the GCF accreditation standards. Monitoring, Reporting and Verification (MRV) function of the green investment will also be assessed and supported, as required.
Update GCF TCP in line with the changes in the country context and priorities since April 2017 including from climate change plans and policies such as the updated NDC and new Mid-century, Long-term Low Greenhouse Gas Emission Development Strategy, implemented climate actions, gaps such as technical, institutional and financial to implement the updated NDC, and potential investment opportunities.
Develop CFS by assessing current and expected public and private financing from both domestic and international sources associated with climate policies and country's needs. In addition, private sector participation will be encouraged to enhance potential investment opportunities and project/programme implementation in domestic and regional level. CFS is intended to support the implementation of the updated NDC and provide context for the updated TCP.
Improve the NOL procedure based on best practices and determine suitable system for Thailand, to also facilitate the review of proposals from the private sector. The revised NOL procedure will reflect the needs of both public and private sector project/program proponents, projects/programs of varying sizes, and different funding instruments.
Design a blended financing facility to mitigate both financial and Environmental, Social, and Governance (ESG) risks at the portfolio level. The facility aims to support a USD200mn loan portfolio in the selected circular economy sub-sectors. Once operational, the loan facility improves the risk/return profile of the projects, providing private equity investors the opportunity to invest. Risk reduction will be achieved through the strategic use of blended finance, leveraging development and concessional finance. The architecture seeks to make the best use of public and external climate finance sources to unlock private sector finance. The objective is to provide systematic and scalable green finance solution.
Develop pipelines and project concept notes focused on Municipal Solid Waste to Energy (MSW2E), sustainable rural bioenergy under Energy for All, Bio-Compressed Natural Gas (BioCNG) and advanced biomaterial business cases, amongst others. The selected sub-sectors have several commercial- scale demonstration projects, local knowhow, and business models. The projects are not yet generally bankable by the view of the domestic finance institutions. The scale-up phase is thus hindered. Both blended debt and equity instruments are considered.
Beneficiaries and Alignment
The beneficiaries of this grant include Kasikornbank, domestic financial institutions, private sector SME-size or mid-market engineering companies, project developers, agricultural industries, municipalities, and rural communities. Green jobs are expected to be created at the labor and advanced bioengineering levels. The waste management value chains will be improved and enhanced. Thailand's NDCs, 4.0 and smart city transformation plans will be advanced. The planned activities are well aligned with Thailand's new Bio-Circular-Green (BCG) Economic Model that was launched in early 2021.
Document type
Approved readiness proposal
Organisation
Global Green Growth Institute