Readiness Support for accreditation gap assessment, capacity building and pipeline development for potential accredited entity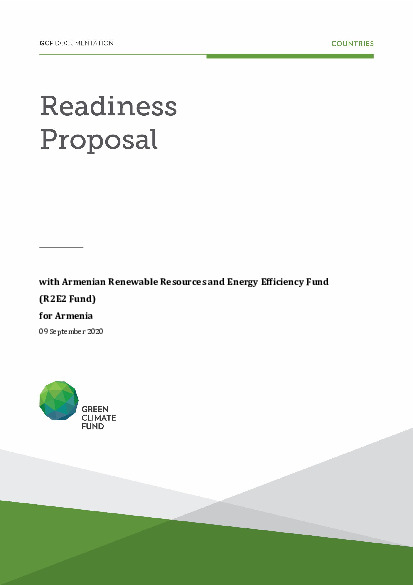 Download
English
|
PDF
|
893.52 KB
Readiness Support for accreditation gap assessment, capacity building and pipeline development for potential accredited entity
Armenia Renewable Resources and Energy Efficiency Fund (R2E2) is the most professional and experienced entity in the field of energy efficiency and renewable energy in the Republic of Armenia. Since establishment in 2006, it is implementing wide range of activities aimed at promoting investments in energy efficiency and renewable energy sectors, fostering market development in the sphere of Armenia's energy efficiency and renewable resources, enhancing reduction of technological influence on environment and human health, developing mechanisms aimed at increasing the level of reliability of energy security and energy system. One of the key objectives of Fund's operations is to promote "green energy" practices in the deprived regions of the country and make it affordable to the mostly vulnerable population, thus addressing "energy poverty" issues for the population. In doing so, R2E2 has partnered with number of international organizations and donor agencies to implement innovative and targeted support to the beneficiaries. Owing to outstanding achievements in delivering its mandate and with the purpose to scale up activities of the Fund (through channeling additional resources), in 2017 NDA has issued nomination letter supporting R2E2 aspiration to become accredited under the national direct assess modality.R2E2 responded to initial comments of GCF Secretariat in mid of 2019 (uploaded responses to the OAS) and currently waiting for further feed-back.
To achieve this goal, R2E2 will require, inter alia, Fiduciary Standards that satisfy GCF criteria. The R2E2 does not currently possess such standards. For this reason, the services of PwC are requested to undertake the necessary gap assessment & action plan support for fiduciary standards, recognizing that PWC that a framework agreement exists between PwC and the GCF. Based on Action Plan and its recommendations, respective documents will be designed by internationally/nationally experienced experts and respective capacity building activities will be executed.
The second pillar of the proposed Readiness and Preparatory Support Project is to develop robust pipeline of programs and projects to submit to the GCF. Tentative pipeline of project ideas (to be revisited during Readiness project) being currently considered by R2E2 includes financing (through Revolving Fund operating under the aegis of R2E2 in partnership with partner banks and non-banking financial institutions) of solar energy and energy efficient upgrades of households and micro businesses (e.g. farmers) in vulnerable communities, creating infrastructure for EVs and energy accumulation facilities. To achieve this goal, the readiness will address R2E2's primary needs. Firstly, the readiness will aid the dissemination of R2E2's role as accredited entity and the opportunity of financing transformational climate change programs and projects at a national and sub-national level through direct access. Secondly, R2E2 will establish mechanisms for the identification of potential projects and programmes and develop capacity to formulate and implement climate change projects and programs. Thirdly, the proposed activities will strengthen R2E2's capacity to identify, evaluate and prioritize incoming proposals, as well as strengthen its capacity to offer assistance for the formulation of proposals. Additionally, R2E2's objective is to raise awareness on climate change impacts and mitigation opportunities and to build capacities at a national and sub-national level (regional governments, municipalities, international development partners and businesses operating in the regions) for the formulation of ambitious mitigation and adaptation measures in line with national priorities and with the Fund's results management framework.
Cover date
09 September 2020
Document type
Approved readiness proposal
Organisation
Armenia Renewable Resources and Energy Efficiency Fund