Report on the progress of the Green Climate Fund during its initial resource mobilization period (January 2015 through March 2020)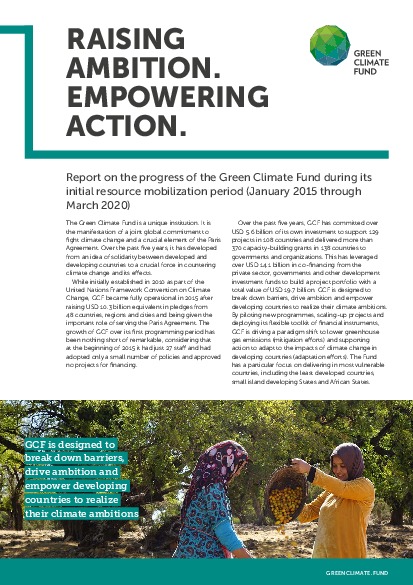 Download
Report on the progress of the Green Climate Fund during its initial resource mobilization period (January 2015 through March 2020)
The Green Climate Fund is a unique institution. It is the manifestation of a joint global commitment to fight climate change and a crucial element of the Paris Agreement. Over the past five years, it has developed from an idea of solidarity between developed and developing countries to a crucial force in countering climate change and its effects.
Over the past five years, GCF has committed over USD 5.6 billion of its own investment to support 129 projects in 108 countries and delivered more than 370 capacity-building grants in 138 countries to governments and organisations.
This brief provides an overview of GCF's progress during its initial resource mobilization period between January 2015 through March 2020.
Document type
Publication