Project preparation for increasing resilience to the health risks of climate change in the Federated States of Micronesia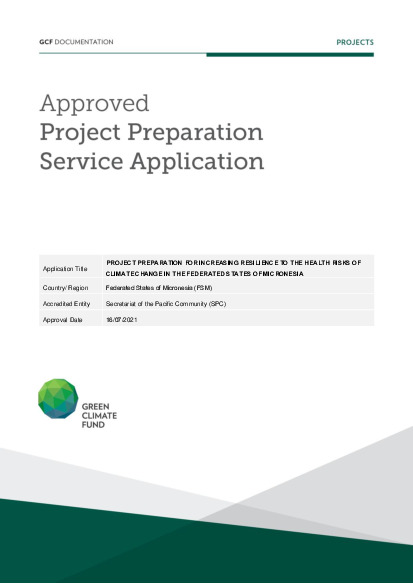 Download
Project preparation for increasing resilience to the health risks of climate change in the Federated States of Micronesia
As climate change creates more severe weather events in the Federated States of Micronesia (FSM), it will exacerbate risks to already burdened human health, in particular through increasing the exposure of humans to vector-, water- and food-borne diseases. The project will build on the National Climate Change and Health Action Plan to transition from the current, highly vulnerable situation to a more climate-resilient and responsive health system through:
integrated policies and strategies;
improved human and systemic capacities;
increased national and state interdisciplinary and holistic collaboration;
harmonized climate and health information systems; and
on-the-ground adaptation interventions in priority vulnerable communities.
The concept note has been developed together with a background study. A clarification annex has been provided to the GCF Climate Investment Committee who endorsed the concept note for further consideration on the 25th of February 2021.
As the project will be developed in a Simplified Approval Process (SAP) format, the PPF will focus on the following activities:
pre-feasibility study and stakeholder engagement plan;
risk assessment and mitigation plan;
term sheet and legal and regulatory due diligence;
budget plan and co-financing framework;
procurement plan and associated documents; and vi. draft funding proposal.
The consulting team for preparation of the funding proposal package should include a local consultant – provided by the firm and based in FSM – to gather additional information and conduct on-the-ground consultations throughout the whole PPF process (as allowed by the COVID-19 in-country travel restrictions).
The Pacific Community (SPC), as the accredited entity for the proposed project, will support the development of the proposal package, by providing the following annexes and complementary technical studies:
gender assessment and action plan – to ensure the development of gender sensitive outcomes by addressing gender issues of the project design and implementation;
Environmental and Social Impact Assessment (ESIA) and Environmental and Social Management Plan (ESMP), as per SPC's standard practice; and
technical study on climate sensitive health risks to strengthen the climate rationale, gap analysis of epidemiology efforts, disease control and water, sanitation and hygiene (WASH) from a climate change perspective, and an initial refinement of the Theory of Change and project activities.
Document type
Approved project preparation funding application
Country
Micronesia (Federated States of)