Policy on ethics and conflicts of interest for the Executive Director of the Green Climate Fund Secretariat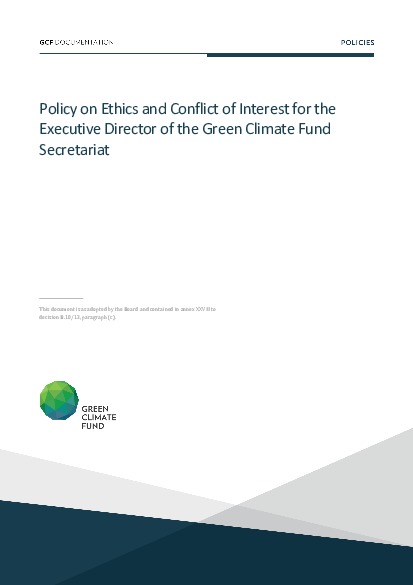 Download
English
|
PDF
|
438.78 KB
Policy on ethics and conflicts of interest for the Executive Director of the Green Climate Fund Secretariat
This policy on ethics and conflicts of interest sets forth principles and ethical standards for the Executive Director in connection with, or having a bearing upon her/his status and the discharge of her/his responsibilities as the Executive Director of the GCF Secretariat. As the Executive Director is entrusted with responsibilities as prescribed in the GCF Governing Instrument and relevant decisions and policies, her/his personal and professional conduct must comply with the standards and procedures set forth herein.
This document captures the policy as adopted by the Board in decision B.10/13.
All decisions and documents adopted at B.10 (July 2015) can be found in document GCF/B.10/17 titled "Decisions of the Board – tenth meeting of the Board, 6–9 July 2015".
Document type
Policies, strategies, and guidelines
Table of contents
Scope, purpose and applicability
Definitions
Basic standard of conduct
Local laws
Conflict of interest
Personal financial affairs
Disclosure of financial and business interests
Outside activities and other employment
Disclosure of information
Political and external activities and interests
Gifts and awards
Conduct within the institution
Procedures for handling allegations of misconduct
Effective date of application