Policy on ethics and conflicts of interest for active observers of the Green Climate Fund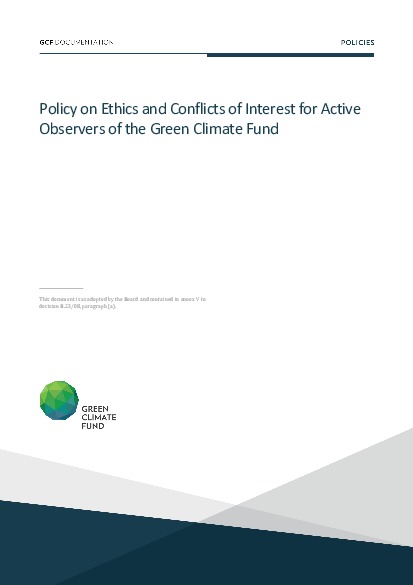 Download
Policy on ethics and conflicts of interest for active observers of the Green Climate Fund
This Policy on Ethics and Conflicts of Interest for Active Observers of the Green Climate Fund sets out principles and ethical standards for the effective participation of the Active Observers in the meetings of the Board of the Fund. The Governing Instrument for the Fund specifies that the Board will invite two civil society representatives and two private sector representatives, to participate in its meetings as Active Observers.
As the Active Observers may, upon invitation of the Co-Chairs, participate in meetings of the Board and receive, in accordance with applicable rules and procedures and with the Fund's disclosure policies, Board meeting documents, this Policy has been adopted by the Board to provide guidance on matters of professional and personal behaviour of Active Observers, in connection with their participation in the meetings of the Board.
The Policy is in furtherance of the general principle set out in the Governing Instrument that the Fund shall operate in a transparent and accountable manner guided by efficiency and effectiveness.
The Policy acknowledges the role that Active Observers play in ensuring the transparency and accountability of the Fund's operation, and underpins the willingness of the Board to promote the input and participation of stakeholders throughout this process with a view to strengthening the role that they will play.
Document type
Policies, strategies, and guidelines
Table of contents
Scope, purpose and applicability
Definitions
Basic standard of conduct
Participation at the meetings
Non-compliance with the Policy
Conflicts of interest
Procedure when a conflict of interest arises
Documentation of conflicts
Transparency and disclosure of information
Gifts and entertainment
Employment by the Secretariat
Review and amendment
Effective date