Operational framework for complementarity and coherence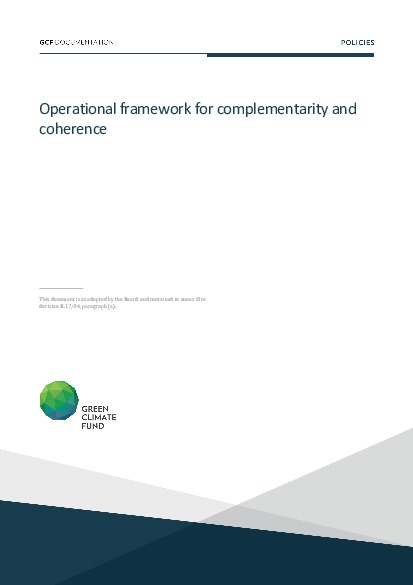 Download
English
|
PDF
|
705.66 KB
Operational framework for complementarity and coherence
The Operational Framework for complementarity and coherence operates in a diverse and evolving climate finance landscape. It seeks to strengthen complementarity and enhance coherence with regards to operations and processes across climate finance institutions. The Operational Framework may also incorporate other institutions when appropriate and as the work evolves. Its evolution requires collaboration with the other institutions.
The scope of the Operational Framework includes areas of relevance between the climate finance delivery channels and the GCF, and it may evolve upon guidance from the Board.
The GCF Secretariat will report on outcomes and progress on the implementation of the Operational Framework to the Board once a year. An update on work under the Operational Framework is also to be included in the GCF report to the Conference of the Parties (COP), starting in 2018.
Document type
Policies, strategies, and guidelines