Notification on official communications from the Green Climate Fund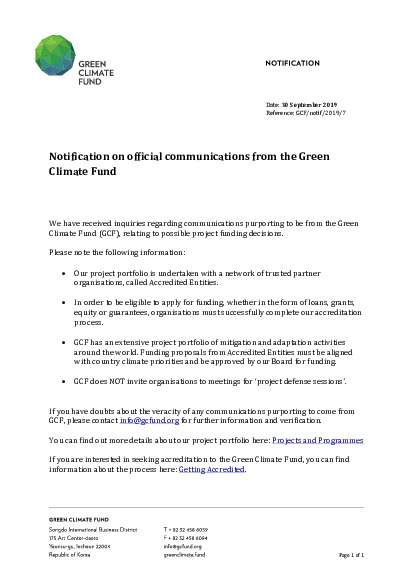 Download
English
|
PDF
|
199.11 KB
Notification on official communications from the Green Climate Fund
We have received inquiries regarding communications purporting to be from the Green Climate Fund (GCF), relating to possible project funding decisions.
Please note the following information:
Our project portfolio is undertaken with a network of trusted partner organisations, called Accredited Entities.
In order to be eligible to apply for funding, whether in the form of loans, grants, equity or guarantees, organisations must successfully complete our accreditation process.
GCF has an extensive project portfolio of mitigation and adaptation activities around the world. Funding proposals from Accredited Entities must be aligned with country climate priorities and be approved by our Board for funding.
GCF does NOT invite organisations to meetings for 'project defense sessions'.
Cover date
30 September 2019
Document type
Notification