Non-financial Risk Policy (Component VI)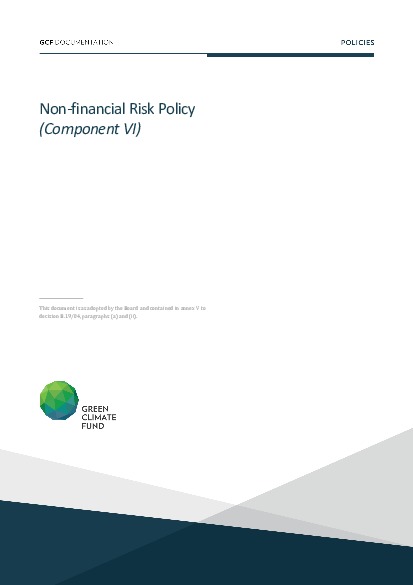 Download
English
|
PDF
|
489.48 KB
Non-financial Risk Policy (Component VI)
This document, the Non-financial Risk Policy ("policy"), is a part of the comprehensive Risk Management Framework, and describes management approach to non-financial risks. Non-financial Risk is defined as the potential for financial and non-financial losses arising from the failure of people, process, or technology or the impact of external events.
This document captures the policy as adopted by the Board in decision B.19/04. The policy was sent to the Board for consideration at B.19 in document GCF/B.19/19 titled "Risk management framework: Proposal by the Risk Management Committee".
All decisions and documents adopted at B.19 can be found in document GCF/B.19/43 titled "Decisions of the Board – nineteenth meeting of the Board, 26 February – 1 March 2018".
Document type
Policies, strategies, and guidelines
Table of contents
Introduction
Objectives and scope
Roles and Responsibilities: GCF Operational Process Error Risks and IT Risks
Business Continuity Management
Reputation Risk Management
Staffing Risk Management
Administrative provisions