NDA Strengthening and Country Programming support for Afghanistan through FAO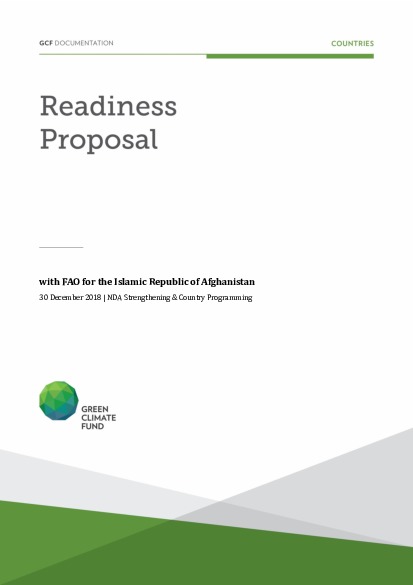 Download
English
|
PDF
|
920.23 KB
NDA Strengthening and Country Programming support for Afghanistan through FAO
Afghanistan is highly vulnerable to the impacts of climate change. A high proportion of the population rely on climate-sensitive sectors, particularly agriculture and animal husbandry. Increasingly uncertain and extreme climatic conditions such as droughts, floods and erratic rain fall patterns impact the productivity of these sectors. Climate change therefore poses a direct threat to marginalized, vulnerable communities and sustainable economic development in the country.
The government has started to place climate change at the core of its development plans, and prioritize adaptation measures at national and sub national levels. To implement the plans and programmes, however, there will be a need for significant resources. Attracting international climate financing on a sufficient scale is a challenge, mainly due to the constantly changing landscape of climate finance and the limited institutional capacity at different levels to leverage, utilize and monitor emerging climate finance opportunities.
In this context, Afghanistan will need to build and manage a fruitful partnership with the Green Climate Fund (GCF). The proposed GCF readiness project will support the country to achieve this objective by:
establishing the institutional arrangements required to manage the country's engagements with the GCF and ensure the country can take the lead in shaping its pipeline of GCF projects; and
developing a clear and inclusive strategic framework for engagement which includes a pipeline of potential projects/programmes aligned with country objectives and the investment criteria of the Green Climate Fund.
This proposal will support the NDA of Afghanistan to put in place necessary arrangements to access and effectively implement GCF resources, responding to the needs to strengthen capacities in the 2 areas mentioned above.
Cover date
10 January 2019
Document type
Approved readiness proposal
Organisation
Food and Agriculture Organization of the United Nations