Mobilizing International Climate Finance and Private Investments for Low-Carbon Development in the Dominican Republic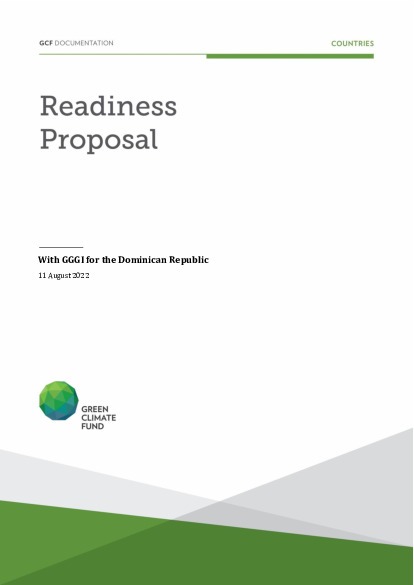 Download
Mobilizing International Climate Finance and Private Investments for Low-Carbon Development in the Dominican Republic
The proposed multi-year Readiness grant aims to enhance the institutional capacity, strategic frameworks, and project pipeline of the Government of the Dominican Republic to increase the mobilization of national and international climate finance and private investments for the implementation if the nationally determined contribution (NDC) and low carbon development.
The proposed Readiness grant plays a pivotal role in the government's climate change strategy and is posed to shape the country´s climate finance landscape for the coming decades by:
Developing the Dominican Republic´s National Climate Finance Strategy to plan, enable and guide the access and use of domestic and international climate finance as mandated by the country´s NDC.
Increasing the Dominican Republic´s institutional capacity to access international climate finance by supporting the accreditation of two candidate Direct Access Entities (DAEs) and the establishment, operationalization and capitalization of a National Financing Vehicle asked with receiving, holding and distributing climate finance from international sources to national priority projects.
Supporting the Dominican Republic´s capital market´s readiness assessment and advancing go-to-market activities for a sovereign green bond issuance and debt for climate swap transactions to raise affordable long-term finance earmarked to climate change adaptation and mitigation projects and programs.
Greening the Dominican Republic´s banking sector by providing technical assistance to local financial institutions to integrate environmental and social standards into their processes, procedures, and instruments to increase the availability of green finance for private sector-led low-carbon projects.
Increasing the Government of the Dominican Republic's institutional capacity to integrate environmental, social and climate change considerations into public-private partnership (PPP) processes and projects.
Expanding and materializing the country's ecotourism potential and its contribution to post-COVID economic recovery and nature conservation.
Providing strategic guidance to close the growing mismatch between educational services and the job market, with focus on green job creation and green entrepreneurship by developing and implementing the country´s first Green Vocational Education and Training Strategy and program with the goal of creating 436,065 new green jobs by 2026.
Cover date
11 August 2022
Document type
Approved readiness proposal
Organisation
Global Green Growth Institute