Jamaica Country Programme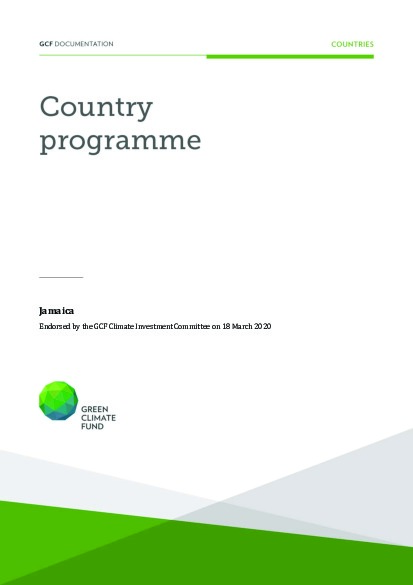 Download
Jamaica Country Programme
Climate change is a major challenge for Jamaica. Experiences of increased drought conditions, periods of intense rainfall, sea level rise, and increasingly high temperatures threatens our path of success to meet our goals of sustainable development towards a low carbon and climate resilient society.
Jamaica continues to increase its ambition to meet the objectives of the Paris agreement. However climate action requires massive transformation in our production methods and consumption patterns.  Transformation and Innovation is needed in all sectors. However these transformational impacts that we desire cannot be led by the public sector alone we need participation from the private sector and civil society. In all of this access and availability of significant financing becomes a priority.
This Country Programme (CP) aims to support and streamline the actions of Jamaica to engage with GCF. The CP prepared with financing from the GCF Readiness and Preparatory Support Programme will provide strategic guidance on the key project proposals that are considered quick wins for climate investment over the next two years. It also direct readiness projects that will strengthen Jamaica's institutional capacity to plan, access and deliver climate finance. The nature of the document remains dynamic and will be updated periodically to reflect changes to national circumstances and national priorities for adaptation and mitigation.
Cover date
26 November 2019
Document type
Country programme
Table of contents
Introduction
Country agenda and GCF engagement
Monitoring and evaluation of country programme implementation
Annexes
Works cited