Integrated results management framework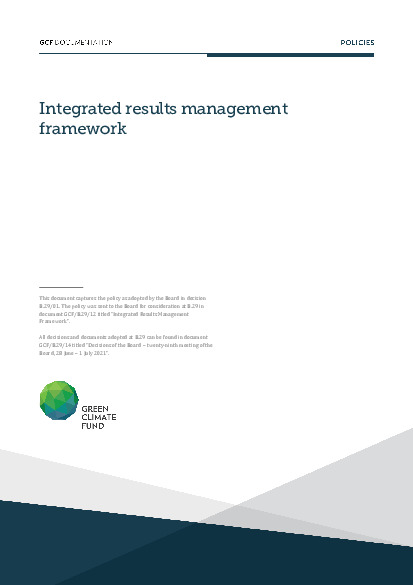 Download
English
|
PDF
|
760.85 KB
Integrated results management framework
The integrated results management framework (IRMF) sets out the approach of GCF to assessing how its investments deliver climate results and how its results contribute to the overall objectives of GCF to promote paradigm shift towards low-emission and climate-resilient development pathways in the context of sustainable development and make a significant and ambitious contribution to the global efforts towards attaining the goals set by the international community to combat climate change.
Built on the initial results management framework (RMF), the IRMF establishes an updated GCF results architecture that includes the levels at which results will be collected and assessed. It clarifies roles and responsibilities for results management and reporting and establishes reporting requirements and processes for monitoring at the project/programme level. 
This document captures the policy as adopted by the Board in decision B.29/01. The policy was sent to the Board for consideration at B.29 in document GCF/B.29/12 titled "Integrated Results Management Framework".
All decisions and documents adopted at B.29 can be found in document GCF/B.29/14 titled "Decisions of the Board – twenty-ninth meeting of the Board, 28 June – 1 July 2021".
Document type
Policies, strategies, and guidelines
Table of contents
Objective
Scope
Overall structure of the integrated results management framework
Indicators, measurement and reporting approaches
Implementation arrangements
Monitoring and review