Institutionalizing a common framework for climate finance MRV to enhance complementarity and coherence for climate action in CARICOM States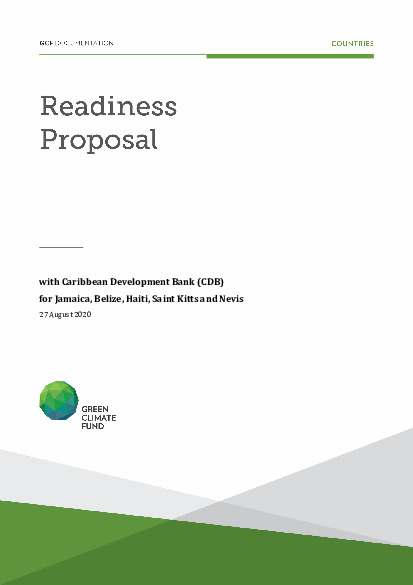 Download
Institutionalizing a common framework for climate finance MRV to enhance complementarity and coherence for climate action in CARICOM States
Crowding in finance around a coordinated package of investments that will address key climate vulnerabilities and build critical capacities in low carbon-climate resilient sectors, is a challenge which the Caribbean region is working assiduously to overcome. This challenge is evident across economic sectors. Climate change threats, particularly to cities and urban centers in the region is acute. This is in part due to high vulnerability and exposure to climate change impacts such as sea level rise, flooding and damage to critical infrastructure such as air and seaports, heath, security, business and education facilities. Developing a GCF concept note which seeks to respond to some of those challenges while at the same time seeking to complement or work in a manner which is coherently responsive to climate action funded by other sources of climate finance, forms part of this readiness.
As the region continues to access finance for reducing the risks posed by climate change, it must also continue to improve its process of accounting for and reporting on climate finance received. Through the enhanced transparency framework, under the United Nations Framework Convention on Climate Change (UNFCCC) Biennial Transparency Reports will be required from 2024. Developing countries should report on financial, technology transfer, and capacity building support needed and received. This necessitates developing a common framework and instituting a harmonized system to allow for measuring, reporting and verification (MRV). Consequently, mapping of climate finance received is an integral first step in that regard.
The evolution of the climate finance landscape necessitates strengthening the complementarity and enhancing the coherence of operations and processes across climate finance institutions. It is therefore important that action be taken to better understand interaction between institutions and to better coordinate the efficient utilization and deployment of international climate finance.
In view of the foregoing, this GCF multi-country Readiness will : (1) develop a common framework and support a fully functional climate finance monitoring, reporting and verification (MRV) system to centrally manage information on sources of funding flows; (2) incorporate national investment ideas for climate change adaptation and mitigation investments targeting urban spaces into a GCF multi-country Concept Note. This Concept Note will be designed to complement ongoing and or, build on previous climate investment projects or programmes.; (3) seek to promote a better understanding of the climate finance landscape in the participating countries through mapping of climate funds and donors, including outlining how donor support is complementary and/or coherent; and (4) engaging NDAs and Ministries of Finance on the financial structuring of GCF projects and programmes.
This multi-country proposal will provide direct benefits to the Ministry responsible for climate change and environment, Ministry responsible for sustainable development and planning, Ministry of Finance, the public sector, private sector, and civil society in the five participating countries.
Cover date
27 August 2020
Document type
Approved readiness proposal
Organisation
Caribbean Development Bank
Country
Belize
Haiti
Jamaica
Saint Kitts and Nevis