Initial strategic plan for the GCF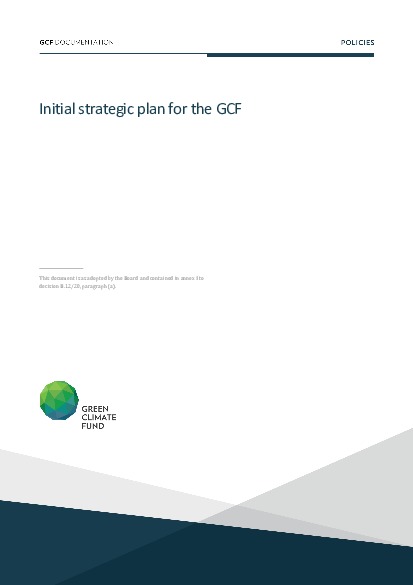 Download
English
|
PDF
|
529.38 KB
Initial strategic plan for the GCF
The strategic plan sets out the Board's strategic vision for GCF, as well as core operational priorities.
This document captures the strategic plan as adopted by the Board in decision B.12/20. The strategic plan was sent to the Board for consideration at B.12 in document GCF/B.12/06 titled "Report on the development of the draft Strategic Plan for the Green Climate Fund: Submission from the ad hoc group of Board/Alternate members".
All decisions and documents adopted at B.12 can be found in document GCF/B.12/32 titled "Decisions of the Board – twelfth meeting of the Board, 8–10 March 2016".
Document type
Policies, strategies, and guidelines
Table of contents
Introduction
The Board's strategic vision for the GCF
Operational priorities
Action plan
Process for the implementation / further development / revision / update of the Strategic Pan