Increasing the Capacity of Bangladesh's NDA and Direct Access Accredited Entities to Access GCF Resources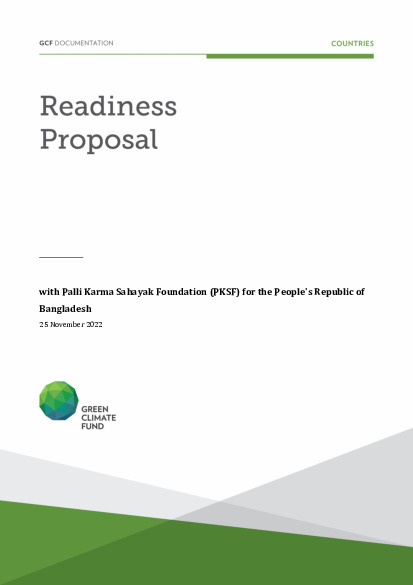 Download
Increasing the Capacity of Bangladesh's NDA and Direct Access Accredited Entities to Access GCF Resources
Bangladesh's National Designated Authority (NDA), in collaboration with the Delivery Partner (DP), the Palli Karma-Sahayak Foundation (PKSF), aims to address critical capacity gaps in the climate sector. The primary purpose of this readiness project is to support the NDA and key partners (i.e., existing and future DAEs, training institutes, private sector and other key partners) to strengthen their capacities for 1) mainstreaming climate action and finance into policy and practice through harmonized training, 2) developing GCF standard projects (e.g., concept notes with a focus on the private sector), and 3) establishing a 'one-stop-shop' data and knowledge center.  
The proposed project will address the capacity gaps discussed above by removing the following barriers under the GCF Readiness Objectives: 1) Capacity Building, 4) Pipeline Development, and 5) Knowledge Sharing and Learning.  
The GCF resources under the proposed project will seek to deliver the following outcomes to remove the barriers and address the capacity gaps. The goal of the project is to strengthen the NDA and its partners' abilities to address Bangladesh's most urgent climate challenges by increasing operational and technical capacities to mobilize climate finance from private and public sources in a strategic and timely manner. 
The proposed project will directly benefit the NDA, DAEs, DAE applicant, training institutions, EEs, and private sector actors. Ultimately, their improved capacities to access climate finance for addressing climate impacts and risks will indirectly benefit local communities directly affected by climate change.
Cover date
25 November 2022
Document type
Approved readiness proposal
Organisation
Palli Karma-Sahayak Foundation (Bangladesh)