Increased climate resilience planning for municipal water resources in Lebanon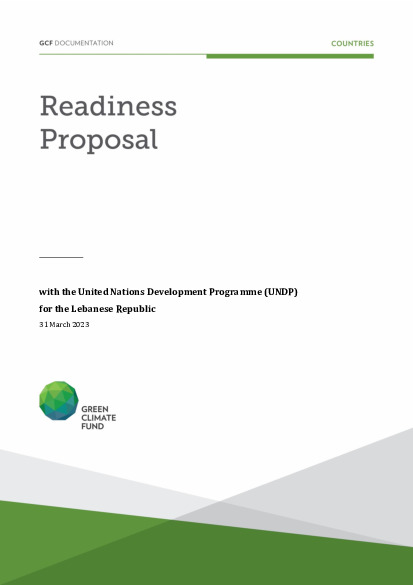 Download
Increased climate resilience planning for municipal water resources in Lebanon
This national adaptation planning (NAP) readiness project is designed to address these barriers: (i) limited mainstreaming of CCA into national and local planning and budgeting; (ii) weak institutional and technical capacity and staffing in sectoral Ministries, including Ministry of Energy and Water (MoEW), and MoE; (iii) lack of reliable data and climate change related information on water resources for municipal use; and (iv) limited implementation of existing action plans for water. The goal of the project is to increase the resilience of water resource planning in urban areas in Lebanon.  
This project has clear climate rationale as it will tackle the threat posed by decreased water availability in Lebanon, due to climate change through increased temperatures and evapotranspiration, changes in rainfall patterns, and sea-level rise. The proposal focuses on water resources as they relate to urban areas and not to irrigation/agricultural use of water, to align with the government's preferences, expressed during the stakeholder consultations that informed the development of this project. Adaptation in agriculture is also a somewhat 'crowded' landscape in Lebanon, with numerous international organizations, INGOs and development partners providing a range of support. This is in contrast to adaptation in urban areas (and urban water resources management in particular) where little international support is currently available or foreseen in the future. 
The United Nations Development Programme (UNDP), as the Delivery Partner (DP), will implement the project in close coordination with MoE, MoEW, the Ministry of Interior and Municipalities (MoIM), the Meteorological Office, the Ministry of Public works and Transport, the Ministry of Industry, as well as the Council for Development and Reconstruction which acts as the primary land planning entity in Lebanon. In addition, the project will coordinate with UN-Habitat, UNICEF, Global Water Partnership-MED and other national and international partners active in the field and the selected locations. 
The project will directly benefit the communities and local authorities of the City of Tyre and the Nahr-el Kalb Watershed, with a rebound effect across other coastal cities and watersheds. In addition, by strengthening coordination mechanisms, information sharing, institutional arrangements, and capacity building, the government and the climate change community will benefit from this integrated NAP project. 
Document type
Approved readiness proposal
Organisation
United Nations Development Programme