Improving the capacity of the Ministry of Agriculture of Suriname to build resilience to climate change in the agriculture sector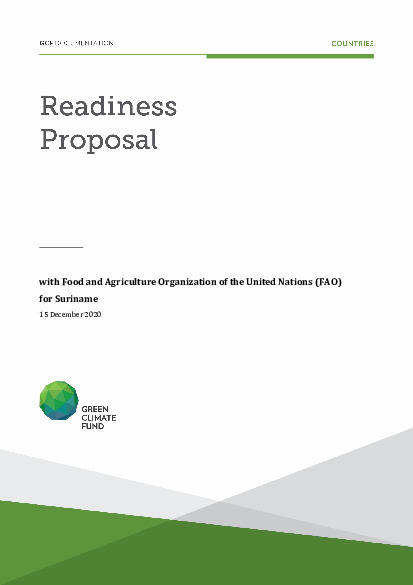 Download
Improving the capacity of the Ministry of Agriculture of Suriname to build resilience to climate change in the agriculture sector
Suriname is particularly vulnerable to the impacts of climate change. The country's small population, major economic activities, and infrastructure are concentrated along the low-lying, heavily urbanized coastal zone. The country has already experienced extensive coastal erosion, and has suffered damages from heavy rainfall, flooding, higher temperatures during dry seasons, and high winds.
The agriculture sector in Suriname currently experiences several challenges to efficiently addressing climate change risk and vulnerabilities. These include:
Lack of institutional capacity, data and information systems;
Limited of technical capacity and awareness; and
Lack of finance to address adaptation needs.
This proposal seeks to improve the capacity of the Ministry of Agriculture and partners, through enhancing systems, networks, skills and expertise in data assimilation and analysis for climate change in the agriculture sector and contribute to building the enabling environment to support the planning, programming and implementation of GCF-funded activities. The project will also build the capacity and provide the baseline data to allow Suriname to submit a project concept note to the GCF.
The proposal will assist the Government of Suriname in implementing its climate strategy as articulated in its policy framework which include its enhanced NDC 2020-2030, the Policy Development Plan (PDP) 2017-2021, National Climate Change Policy, Strategy and Action Plan for Suriname (NCCPSAP) (2015-2021), National Adaptation Plan (2019) and National Master Plan for Agricultural Development (2016). Critical to the implementation to these strategies and plans for climate change is a robust system for the collection, assimilation and translation of data (agriculture and climate data) into formats that can be used to implement actions.
The main beneficiaries of this proposal are the Ministry of Agriculture and its implementing partners, such as the Meteorological Services department, Ministry of Physical Planning Land and Forest Management and the , National Institute for Environment and Development, who are aware of the impacts of climate change on the sector, but largely lack the technical expertise, skills and equipment to lead on the implementation of adaptation and mitigation actions.
Cover date
15 December 2020
Document type
Approved readiness proposal
Organisation
Food and Agriculture Organization of the United Nations