Improving the capacity of the Fisheries Sector in Saint Lucia to enhance resilience to Climate Change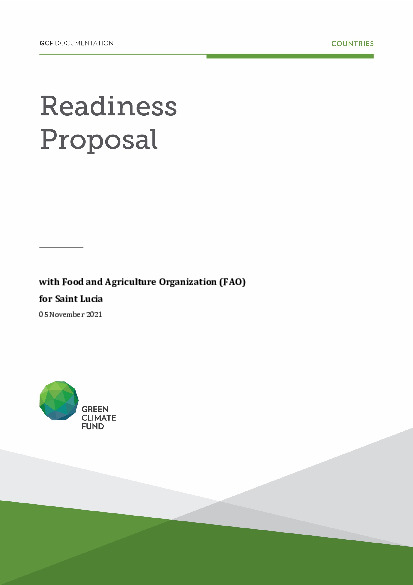 Download
Improving the capacity of the Fisheries Sector in Saint Lucia to enhance resilience to Climate Change
Saint Lucia, like many Small Island Developing States (SIDS) in the Caribbean, is already experiencing the negative impacts of climate change. The loss and damage of vital fish nurseries and breeding habitats, such as coral reefs, mangrove and seagrass ecosystems and the consequent decline in reef fish densities, which is expected with climate change, has been already observed.
There are a number of barriers which are affecting Saint Lucia's ability to effectively implement climate change adaptation measures in the fisheries sector to deal with the changing climate. These barriers include insufficient policies, plans and regulations in the fisheries sector to adapt to climate change, inadequate data and methodologies to collect and manage climate related information and a lack of processes and plans to allow the fisheries sector to be effectively prepared for extreme events.
This project will allow Saint Lucia to build its capacity to address some of these barriers and ultimately adapt to climate change impacts that are affecting the fisheries sector. The project will lead to an upgrade and improvement in methodologies and processes used to manage data, and integrate climate change adaptation into the fisheries sector. This will include developing early warning communication tools and disaster planning. The proposed readiness grant will strengthen adaptation planning and governance, along with improving institutional coordination. Baseline data will also be obtained, which will be used to design and implement future adaptation solutions for the fisheries sector.
The objective of the project is to build the technical and institutional capacity of the fisheries sector to adapt to the adverse effects of climate change through implementation of the sectoral adaptation plan for the fisheries sector (SASAP).
Cover date
05 November 2021
Document type
Approved readiness proposal
Organisation
Food and Agriculture Organization of the United Nations