Guidelines for enhanced country ownership and country drivenness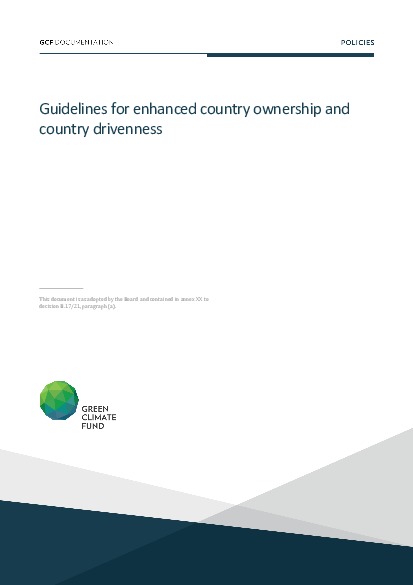 Download
English
|
PDF
|
441.68 KB
Guidelines for enhanced country ownership and country drivenness
This document presents a set of guidelines, drawing upon learning experiences and best practices across NDAs/FPs, for country ownership and drivenness. GCF considers country ownership as the measure through which countries, through meaningful engagement, including consultation with relevant national, local, community-level, and private sector stakeholders, can demonstrate ownership of, and commitment to, efforts to mitigate and adapt to climate change.
This document is as adopted by the Board in decision B.17/21. It was sent to the Board for consideration at B.17 in document GCF/B.17/14 titled "Guidelines for enhanced country ownership and country drivenness".
All decisions and documents adopted at B.17 can be found in document GCF/B.17/21 titled "Decisions of the Board – seventeenth meeting of the Board, 5 – 6 July 2017".
Document type
Policies, strategies, and guidelines
Table of contents
Introduction
Guiding principles
Building country ownership through country programmes and structured dialogues
Reflecting country ownership in the Fund's operational modalities
Evaluating and developing country ownership