Green Guarantee Company (GGC)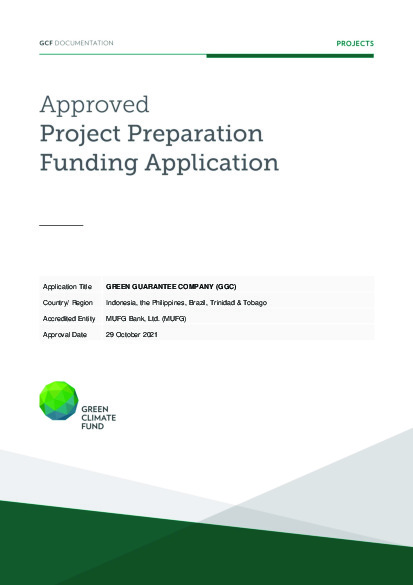 Download
Green Guarantee Company (GGC)
The Green Guarantee Company ("GGC") is an innovative finance solution which is proposing to use blended finance and guarantees to mobilise greater climate finance into Indonesia, the Philippines, Brazil, Trinidad & Tobago and other developing countries (as No-Objection Letters are received in future) from global capital markets to help them meet their mitigation/adaptation targets as articulated in their Nationally Determined Contributions (NDC).
With a combined population of almost 600 million the four pathfinder countries of Indonesia, the Philippines, Brazil and Trinidad & Tobago represent a strong platform for GGC to commence operations. According to the Climate Bond Initiative these four countries have demonstrated private sector appetite for issuing green bonds however have experienced limited growth. For example, Brazil has a green bond market of USD 11 billion, however spread across only 53 issuers and circa 90 bonds, meaning that a limited pool of companies are repeatedly issuing bonds rather than a growing pool driving the growth of the market. It is the ambition of GGC to help more issuers access capital markets by issuing green bonds.
A GGC Funding Proposal for USD 125 million of equity financing from GCF is presently being developed, however requires support from PPF to help overcome some specific challenges that are presented by the innovative and ground-breaking nature of the GGC proposition. These challenges are:
The establishment of GGC as an independent professional financial institution with clear governance arrangements, that is compliant with all relevant legal and regulatory requirements to operate and in possession of the requisite institutional capacity.
The need to develop a Logical Framework for a guarantor of green (or climate) bonds issued in global capital markets that is aligned with GCF's own Results Management Framework (RMF) and Performance Measurement Framework (PMF).
This PPF application seeks to address these two specific challenges by enabling the procurement of international consultants to support the development of the Logical Framework and an international law firm to help establish the corporate structure of GGC including its governance, regulatory and legal policies and procedures.
Cover date
29 October 2021
Document type
Approved project preparation funding application
Country
Brazil
Indonesia
Philippines (the)
Trinidad and Tobago