Green Climate Fund Readiness Support for Sierra Leone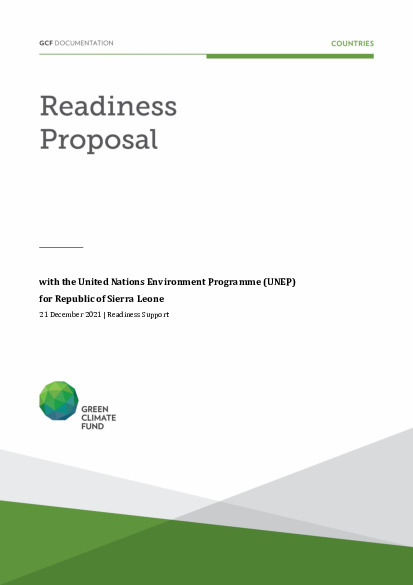 Download
English
|
PDF
|
869.49 KB
Green Climate Fund Readiness Support for Sierra Leone
Sierra Leone is a least developed country (LDC) which is already facing the brunt of climate change impacts including frequent flooding that destroy lives and livelihoods of its already poor, changes in rainfall pattern that are negatively affecting the agricultural productivity, and sea level rise that is destroying the coastal environment of the country.
The county's climate response includes the signing of the United Nations Climate Change Convention (UNFCCC), its Kyoto protocol, the development of national communications, NAPA, NDC etc. Sierra Leone also established the Environment Protection Agency (EPA)-Sierra Leone in 2008 with a mandate initially limited to environmental issues. It is only towards the end of 2013 that the National Climate Change Secretariat (NCSS) was established within the EPA to specifically look at climate change issues. Then came in the devastating ebola outbreak in 2014, which brought progress on hold. Engagement on climate financing issues only resumed in 2015/6.
Therefore, the proposed national readiness programme aims to support the Government of Sierra Leone to strengthening national capacities to effectively access and efficiently manage, track and guide climate financing with particular attention to the requirement of Green Climate Fund (GCF). Guided by national development policies and priorities, the readiness programme will include the preparatory activities to: a) strengthen National Designated Authority (NDA) under the leadership of the GCF Focal Point, b) strengthen stakeholders' engagement and effective participation, c) assist Sierra Leone in developing a gender- responsive country programme including climate change adaptation and mitigation priorities, and development of project/programme concept notes. This will be achieved through targeted needs assessment of the relevant stakeholders, tailor made trainings and capacity building workshops on GCF procedures and expectations on funding proposals based on the identified priorities and Sierra Leone's commitments under the NDCs, and other strategic documents. The accomplishment of above readiness activities will lay the foundation for Sierra Leone to kick-start and make concrete steps toward meeting the need for climate financing in an effective and coordinated way.
Cover date
21 December 2021
Document type
Approved readiness proposal
Organisation
United Nations Environment Programme