Ghana Industrial Energy Efficiency Readiness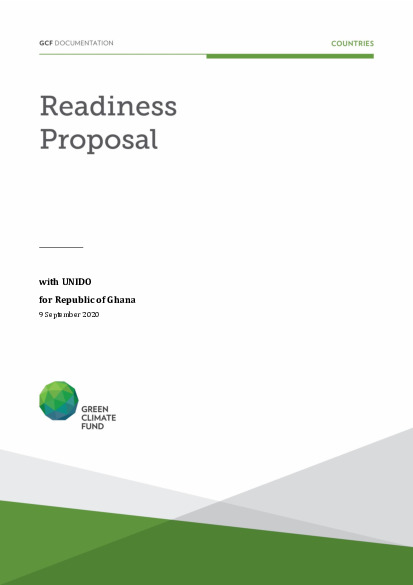 Download
English
|
PDF
|
861.51 KB
Ghana Industrial Energy Efficiency Readiness
This GCF Readiness proposal aims to support the implementation of Ghana industry related NDC targets through: (i) Detailed policy formulation for government on industrial energy efficiency; (ii) Developing an initial pipeline of industrial energy efficiency projects; and (iii) Capacity-building of local financial institutions on energy efficiency assessment.
The policy work package will identify a concrete list of programmes and actions to attract investment in industrial energy efficiency along with the data collection framework, coordination mechanism and process for monitoring and evaluation. This will also serve as an input to the GCF Country Programme that is currently being developed within ongoing readiness support to Ghana with the assistance from UNDP.
The industry work package will support 10 champion energy intensive industrial enterprises with the implementation of ISO 50001 compliant Energy Management System (EnMS) with the aim of:
Building industry's capacity to identify and formulate energy efficiency projects;
Training a pool of national energy efficiency consultants together with industries to support further uptake of energy efficiency measures in other industries;
Identifying the initial pipeline of industrial energy efficiency projects to be further developed into bankable investment proposals for commercial lending.
Finally, the grant will be used to build the initial capacity of local financial institutions in assessment of energy efficiency projects. This activity will be carried out with the aim of generating interest of potential Direct Access Entities in developing a full funding proposal to GCF on industrial energy efficiency.
The proposal has been prepared in consultation with the relevant stakeholders in Ghana, including the Ministry of Energy, the Ministry of Trade and Industry, the Ministry of Environment Science Technology and Innovation, Energy Commission, Association of Ghana Industries, and others. UNIDO conducted two stakeholder consultations workshops along with a number of bilateral meetings with the NDA and other stakeholders.
Cover date
09 September 2020
Document type
Approved readiness proposal
Organisation
United Nations Industrial Development Organization