Gender assessment for FP056: Scaling up climate resilient water management practices for vulnerable communities in La Mojana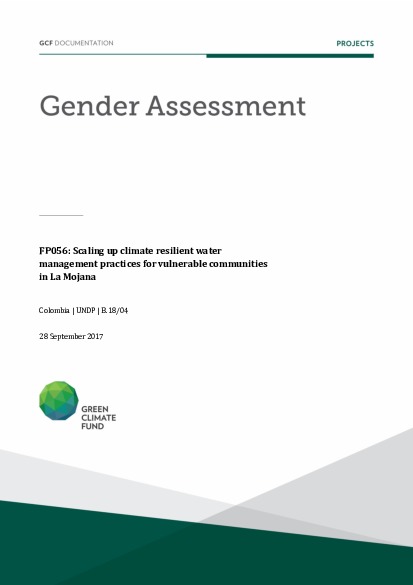 Download
Gender assessment for FP056: Scaling up climate resilient water management practices for vulnerable communities in La Mojana
This gender assessment aims to provide an overview of the gender situation in Colombia, with a specific focus on integrated water management in La Mojana region; to identify gender issues that are relevant to the project; and to examine potential gender mainstreaming opportunities. The assessment was based upon available data from studies conducted by the Government of Colombia and multilateral agencies, and includes:
A review of women's participation in the Environment and Sustainable Development projects run by UNDP Colombia.
Alignment with UNDP's gender strategy and that of UNDP Colombia's Environment and Sustainable Development area.
Alignment with the National Public Gender Equity for Women Policy.
Integration of gender considerations into the project indicators, targets and activities, identifying women as leaders and decision-makers.
Cover date
31 January 2018
Document type
Gender assessment
Organisation
United Nations Development Programme
Project
FP056: Scaling up climate resilient water management practices for vulnerable communities in La Mojana