GCF Request for Proposals - Private Sector Facility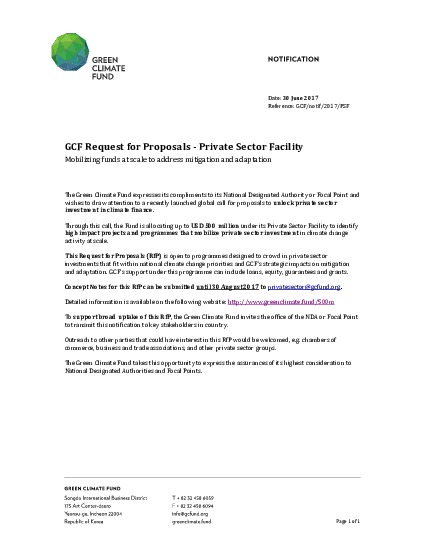 Download
GCF Request for Proposals - Private Sector Facility
The Green Climate Fund expresses its compliments to its National Designated Authority or Focal Point and wishes to draw attention to a recently launched global call for proposals to unlock private sector investment in climate finance.
Through this call, the Fund is allocating up to USD 500 million under its Private Sector Facility to identify high impact projects and programmes that mobilize private sector investment in climate change activity at scale.
This Request for Proposals (RfP) is open to programmes designed to crowd in private sector investments that fit within national climate change priorities and GCF's strategic impacts on mitigation and adaptation.
GCF's support under this programme can include loans, equity, guarantees and grants. Concept Notes for this RfP can be submitted until 30 August 2017.
Document type
Notification