GCF/BM-2014/01: Administrative Policies of the Fund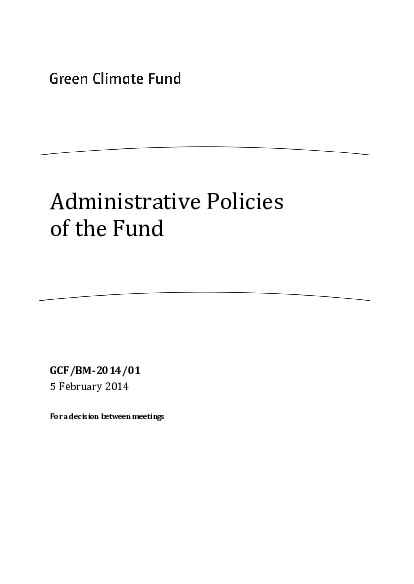 Download
GCF/BM-2014/01: Administrative Policies of the Fund
At its June 2013 meeting, the Board decided that the administrative policies of the Fund, including on human resources, procurement, travel and finance, are to be based on those used by the Asian Development Bank (ADB). It also authorized the Executive Director to develop the administrative guidelines necessary for the operations of the Secretariat, based on the directions provided by the Board.
At its October 2013 meeting, having taken note of the progress made in this area, the Board requested the Executive Director to promulgate all administrative guidelines and to submit the Administrative Policies to the Board for approval.
Administrative guidelines that supplement and implement the Administrative Policies will be forwarded to the Board for endorsement on a no-objection basis before they are promulgated by the Executive Director.
Considerations of cost-effectiveness and institutional efficiency warrant that the Fund does not duplicate the efforts already undertaken by other international organizations. In order to minimize administrative costs, the administrative guidelines will follow as much as possible ADB's administrative orders. Any deviations from these administrative orders will be highlighted when Board endorsement is sought.
Annex II contains, for the Board's consideration and approval, the proposed Administrative Policies of the Fund. Consistent with the Board decision that the Fund's administrative policies, including on human resources, "are to be based on those used by ADB", the Fund's basic salaries for internationally recruited staff will be maintained at the same levels as those of ADB. Thus, the basic salary of the Fund's staff for 2014, as set forth in Annex III, is identical with the corresponding international staff salary structure of ADB. As ADB has no salary scale for staff who are locally recruited in the Republic of Korea, it is proposed to use as a proxy for such staff the World Bank's salary scale that is based on very similar principles as those applied by ADB (see Annex III).
Document symbol
GCF/BM-2014/01
Cover date
05 February 2014