GCF/B.37/20: 2024 work programme of the Secretariat and annual administrative budget of the GCF Secretariat, Board and Trustee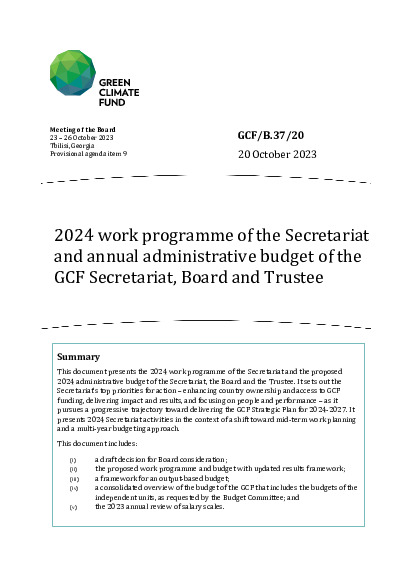 Download
GCF/B.37/20: 2024 work programme of the Secretariat and annual administrative budget of the GCF Secretariat, Board and Trustee
This document presents the 2024 work programme of the Secretariat and the proposed 2024 administrative budget of the Secretariat, the Board and the Trustee. It sets out the Secretariat's top priorities for action – enhancing country ownership and access to GCF funding, delivering impact and results, and focusing on people and performance – as it pursues a progressive trajectory toward delivering the GCF Strategic Plan for 2024-2027. It presents 2024 Secretariat activities in the context of a shift toward mid-term work planning and a multi-year budgeting approach.
This document includes:
(i) a draft decision for Board consideration;
(ii) the proposed work programme and budget with updated results framework;
(iii) a framework for an output-based budget;
(iv) a consolidated overview of the budget of the GCF that includes the budgets of the independent units, as requested by the Budget Committee; and
(v) the 2023 annual review of salary scales.
Document symbol
GCF/B.37/20
Cover date
20 October 2023