GCF/B.27/Inf.12: Report on the activities of the Secretariat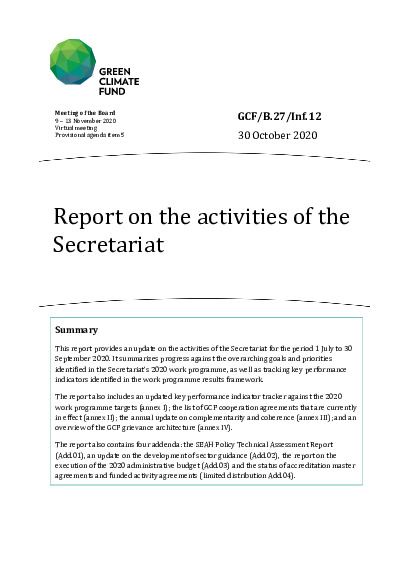 Download
GCF/B.27/Inf.12: Report on the activities of the Secretariat
This report provides an update on the activities of the Secretariat for the period 1 July to 30 September 2020. It summarizes progress against the overarching goals and priorities identified in the Secretariat's 2020 work programme, as well as tracking key performance indicators identified in the work programme results framework.

The report also includes an updated key performance indicator tracker against the 2020 work programme targets (annex I); the list of GCF cooperation agreements that are currently in effect (annex II); the annual update on complementarity and coherence (annex III); and an overview of the GCF grievance architecture (annex IV).

The report also contains four addenda: the SEAH Policy Technical Assessment Report (Add.01), an update on the development of sector guidance (Add.02), the report on the execution of the 2020 administrative budget (Add.03) and the status of accreditation master agreements and funded activity agreements (limited distribution Add.04).
Document symbol
GCF/B.27/Inf.12
Cover date
30 October 2020